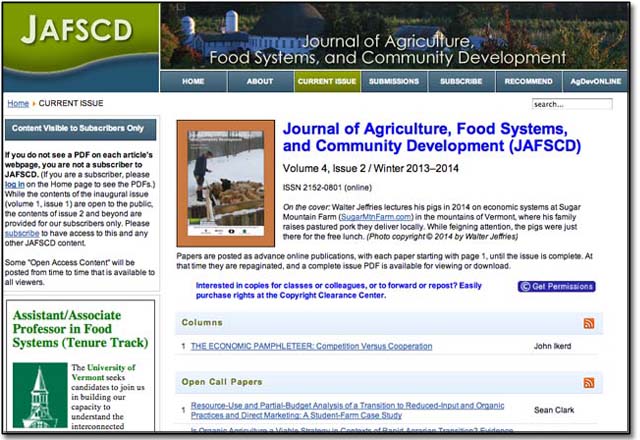 Walter and Pigs on Magazine Cover – Winter Fun! click-it
February 27th, 2014
– Walter and pigs appeared on the cover of the Journal of Agriculture, Food Systems, and Community Development (
JAFSCD
) Volume 4, Issue 2 / Winter 2013–2014. From the journal description of the cover photo:
Walter Jeffries lectures his pigs in 2014 on economic systems at Sugar Mountain Farm in the mountains of Vermont, where his family raises pastured pork they deliver locally. While feigning attention, the pigs were just there for the free lunch.
Here's a larger version of the cover shot from the magazine. The photo for the cover originally came from my article Question on Pastured Pork Pricing.
For more Sugar Mountain Farm news check out the News Page which can be found in the menu bar above.
Outdoors: 8°F/-14°F Sunny
Tiny Cottage: 65°F/60°F
Daily Spark: There's an old saying that "An apple a day keeps the doctor away." Is this a large apple or a small apple and how big is the doctor?