Spitz our Berkshire Boar
Someone had asked for pictures of our various boars. These are some of the current gentlemen who service our ladies.
Spitz, our Berkshire boar, is not quite as tall as he looks in this photo because the bottom couple of inches of the fence are buried in snow that he is standing on. However, you can see a sow under and past him – they're all a lot smaller than him.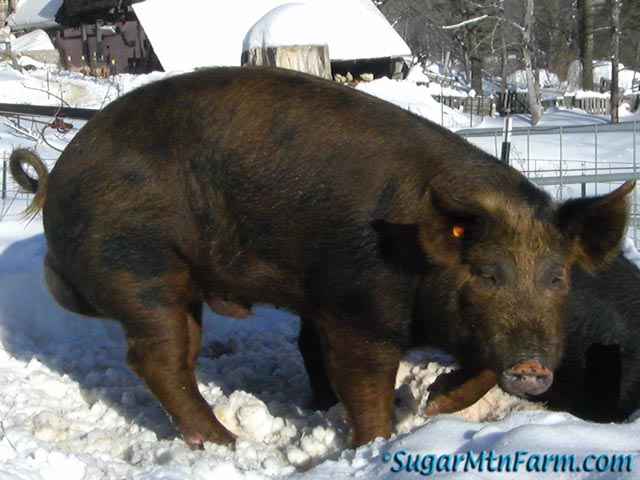 Spitzon
Spitzon is the son of Spitz out of one of our Mainline sows. He's now approaching a year in age but the size of boars who are eight months his elder. He has long been the biggest and fastest growing boar in his cohort. This December he got to breed and we'll soon see what his offspring and Spitz grand offspring are like.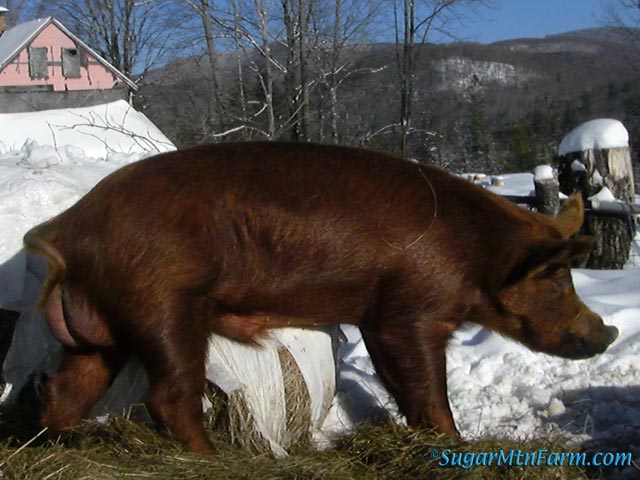 Tamworth Boar
Here is our Tamworth boar. He doesn't seem worried that I never a gave him a name. "Doesn't matter what you call me, just don't call me late for dinner." seems too long to say. Perhaps in Pig it is shorter.
Black Beard
This is Black Beard who is out of Blackie and Speckles. He's a fine looking and quite large Large Black and Large White cross. Large White is also known as Yorkshire which is one of the oldest breeds of pigs, fast growing, good mothers, big and excellent on pasture.
BlackJr
This is the younger of the two Blackie line boars. They originated from our first Large Black pig line BlackieLine crossed to our Mainline and getting the benefits of both. Eventually these will merge in completely with the Mainline but that may take another five years or so to happen.
Sow Peanut Butter Facing and Profile
As an interesting comparison this is Peanut Butter, a typical sow. Compare her face with those of the boars. She is much more feminine and graceful in her curves versus their more masculine lines.
Outdoors: 34°F/14°F Partially Sunny
Tiny Cottage: 66°F/62°F
Daily Spark: There's a joke that some people need to pee on the electric fence to figure things out. Interestingly, I've never seen a boar pee on the electric fence. Sows, yes, but never a boar. On the other hand, I've seen a male dog do it but never a bitch. I've never seen any of them every repeat it. Ask yourself: Do you need to pee on electric fences or is it good enough to watch someone else do it?