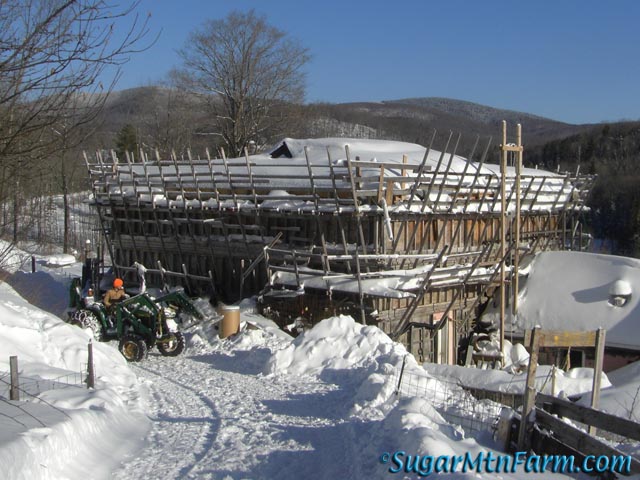 Butcher Shop on Snow
With the cold winter weather it is very nice to be able to work inside the butcher shop where it is naturally a balmy 45°F just like the cave it was designed to be.
In the picture above picture you can see the wooden hoist Will and Ben built to lift tons of rock and concrete up to the roof up from the the lairage. We used these stones when we did the final structural roof pour last fall that built out the projecting eves and set the drainage pattern of our flat roof.
The area below the hoist is partitioned off for safety as that is the drop zone should anything go wrong when lifting up several hundred pound pieces of marble and granite.
The exterior of the butcher shop is form work and scaffolding, lots of wood. Ironically when we are done there will be no wood left. It will all be removed to use on building other projects like the Ark, the tower and such. Many of these forms came from when we built our cottage and the south field shed. The old hay barn that was on the foundation we used for the butcher shop we disassembled and that became other structures scattered around our farm. Previously that barn had been brought here in the 1960's from another location where it had no longer been needed. Reuse again and again.
Last week we plastered the walls. Yesterday I finished doing the electric conduit in the upper coves of the iCutter so they can now get hidden in coving. Ben and Will have just finished grinding the walls and ceiling of the bathroom which just began it's 30 day cure period before applying polyurea to seal it. The count down is on.
Outdoors: 31°F/14°F Partially Sunny
Tiny Cottage: 66°F/60°F
Daily Spark: Although small, our dog Katya wears army boots. When she walks into the area you know it. She's loud, growly and much like Sarge in the cartoon strip Beatle Bailey. She even cusses like him. She's also short and barrel chested. On the other hand our livestock guardian dog Remus is the tallest of our dogs and moves with a feather light grace and silence that belies his great size. They make an odd pair. Remus loves Katya dearly. She… well… lets just say that love can be a one way street.