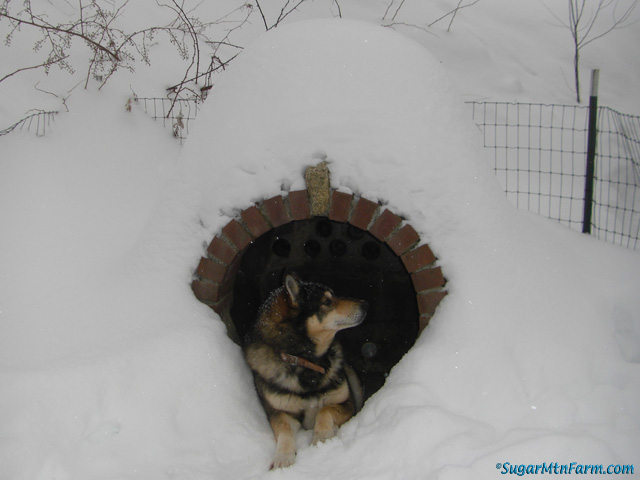 Kavi in the Dog House
Kavi
isn't in the dog house because of doing anything wrong. I merely wanted to get a photo of the dog house with snow on top of it nearly as tall as it's own arched roof. So I asked Kavi to go in the dog house and he politely obliged, posing as I got my camera settings right.
It is looking a
lot more
like winter now that we've gotten a goodly amount of snow. And Kavi is feeling much better after his recent
bout
of upset stomach.
In the back of the dog house you can see a glass bottle wall. The entrance is an arch of brick. Like our cottage, the roof of the dog house is ferrocement barrel arch. This dog house was a test bed for ideas in building our cottage. Those ideas and methods are now being used in building our butcher shop. Prior to building the dog house we built another animal shelter. This architecture is an evolving process of discovery.
Outdoors: 12°F/4°F 6″ Snow
Tiny Cottage: 65°F/61°F
Daily Spark: Scars are signs of character. In some cases, bad character, but still character!