Van in the Wind Stream
We've been wind tunnel testing our Ford Econoline 350 Extended Body delivery van as the photo above shows. The test is run backwards. That is to say the wind was coming from the rear as if the van had been driving 60 mph in reverse gear. Screaming! I would not want to actually try that out on the highway unless I was doing a Mythbusters episode and even then I think I would rather not.
We got about 14″ of snow but there is virtually none on top of the van because the wind blew it all off. The van is parked next to the butcher shop which created a high intensity wind zone as the wind hits the north end of the butcher shop and then slides around to either side in order to naturally plow our driveway. The intense stream of air left a hard pack on the hood and windshield as they were at the lee. Rather dramatically shows off the quiet eddy there.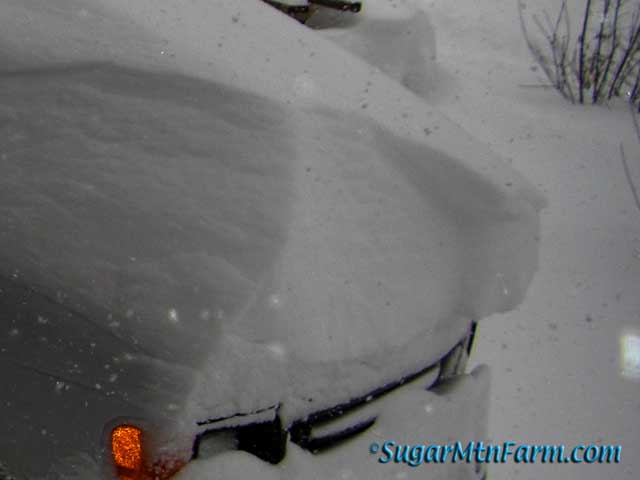 Glacial Overhang
Interestingly, the snow pack actually projects beyond the front of the van out into the air by about eight inches.
How the Van Looked Before the Wind Tunnel Test
This same wind continues to blow snow down off of Sugar Mountain onto our fields and farm long after the storm is over. Thus we'll have snow falling for days as the mountain and trees shrug off their downy coat.
Outdoors: 24°F/4°F 14″ Snow, High Winds
Tiny Cottage: 63°F/56°F
Daily Spark: Do the impossible for a long time.