Surface Mounted Electrical Outlet Box
Normally electrical boxes and plumbing are surface mounted in most commercial buildings. This create a myriad of nooks and crannies where dirt collects and bacteria can thrive. Very unhygienic and unsanitary. You'll notice there is no photo above. That's because I have no surface mounted outlets to photograph. Not to say I'll never have any, but I'm working at planning ahead to avoid them as much as possible.
Surface mounted plumbing, conduit and electric boxes makes it hard to clean which wastes time and the equipment won't last as long getting bumped on the surface so it will wear out and have to be replaced. Additionally, a surface mounted conduit could get caught on something, break and cause injury. All around, surface mounting is a less than optimal way to install electric and plumbing.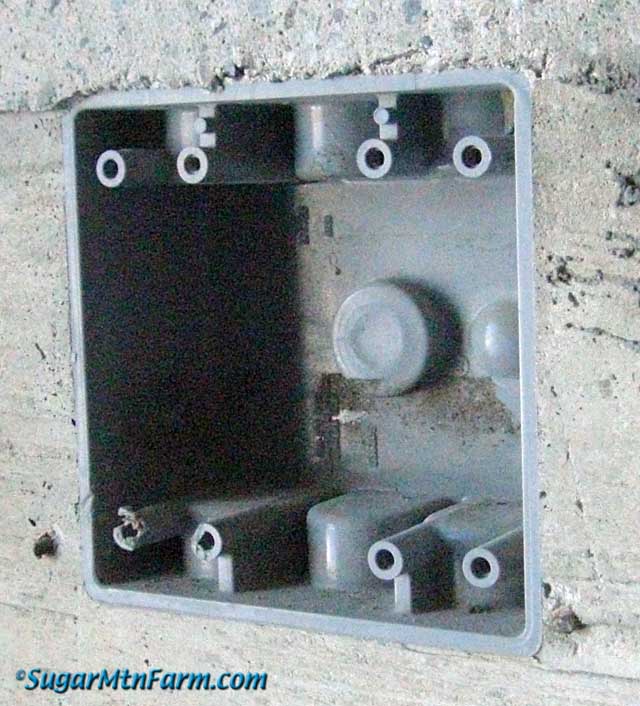 Poured in Place Electric Box
My solution has been to think ahead as much as possible and place the conduit, boxes, plumbing and such in the concrete walls. This meant wiring and conduiting the building while it was a negative image, the forms. It took a lot of time to think this out but it is the best way. I'm really glad I did it on most of the butcher shop.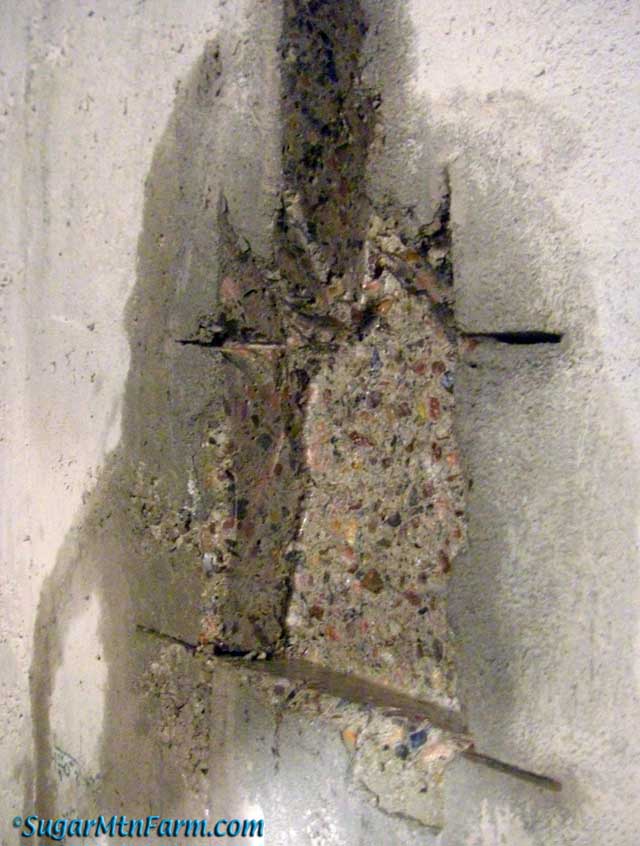 Cutout into Concrete for Electric Box
But there are a few spots in the original structural pours where I wasn't sure yet where I would need the outlets. In these cases I knew I was going to have to face the day when I would either have to surface mount the boxes and conduit, something I really don't like, or we would be cutting into the concrete to put these in place.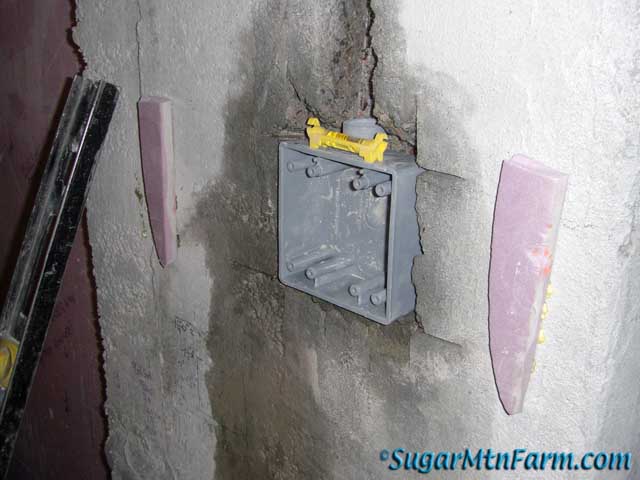 Set in Place with Shims and Levels
This week that day came. Ben volunteered to do the cutting and chipping of three recesses in the walls of iCutter, the initial cutting room, where I have now placed outlets and their associated conduit.
Mortared in Place
It is a
lot
harder to do post pour placement than to have poured the boxes in. It took Ben about two hours to saw and chip out the concrete for the boxes and their conduit plus another half hour for me to mortar in the box. With the original pour in method I placed hundreds of outlets and over a thousand feet of conduit. To do that much this way would have been impossible, due to the convolutions, but even if it had been possible it would have take about 30 weeks. The result would be weaker walls if they had been chopped up like this so I would have had to build them thicker to begin with to get the same strength increasing the cost of construction, the real estate taxes and decreasing the useable space in the building. Cutting in the outlets like this is a poor second best solution only to be employed in desperation. Thinking ahead is far better.
Plastered Wall Finish
This photo shows the conduit with the plaster green coat and then the white coat brought level with the edge of the box. We use a high OPC fiber based plaster we make from the raw ingredients (home cooking at its best) which is very strong, impermeable and sticks well even to ceilings. Dirtying up the surface with neat cement and letting that cure a day helps with plastering by giving the new material something to grab onto.
There is basalt mesh embedded over the now hidden grove where the conduit rises from the box to the 90° angle at the top. This helps with crack prevention. There is also an expansion joint around the conduit since concrete and PVC have different rates of thermal expansion. The fiber should also help as will the final coating.
Right now the color of the plaster is funky as it is still green. This will change in the coming week as the cement ages. After 30 days of curing the plaster coat will get covered with polyurea – very similar to the material used to make truck bed liners. The polyurea we'll use will be a smooth coat. This makes for a water tight floor to ceiling and all around the room coating that is easy to sanitize – Keep it cool, clean and cloistered.
When this wall is finished nobody will know the difference between the properly poured in place outlets and those that Ben and I cut into the wall. Nobody but us. From a proper sanitation point of view this outlet is just as good as the poured in place ones, it was just a lot harder, and dustier, to get into the wall. Fortunately there will only be a few we need to do this way.
Outdoors: 18°F/5°F Sunny
Tiny Cottage: 63°F/57°F
Daily Spark: It appears that the laws of physics are merely guidelines. -Will on hearing that magnetic monopoles have been created, identified and photographed.