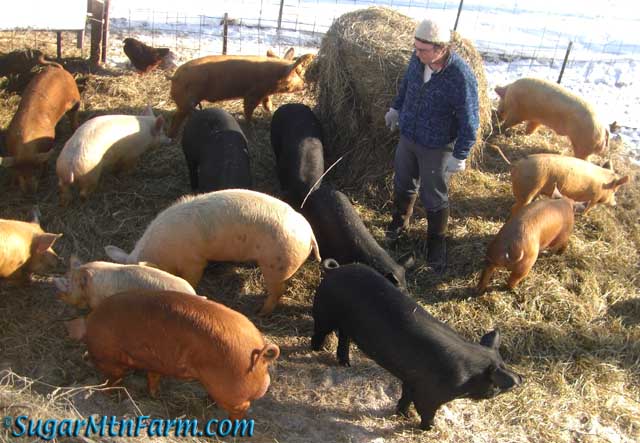 Walter Wanding Pigs
Hope snapped this photo of me counting pigs. I'm using my magic pig wand. The stick is a snip of brush I cut to a known length of 48″. Walking around through the crowd like this with the thin stick doesn't scare the pigs like a tape measure or thicker stick would. This is like the method we use of
weighing a pig with a string
but even faster. The formula explained at that link is:
Live Weight = Length x Girth x Girth / 400
†
That is to say:
WL = L x G x G / 400
Since I know the typical ratios L:G of our pigs so I can short cut the formula around finisher weight by assuming that:
G = L – 4
This produces:
WL = L x (L – 4)2 / 400
Pigs who are the length of my stick crown to tail are market size, up about 250 lbs live weight which will yield about 180 lbs hanging weight.††
Waving my wand around gives me quick count of how many pigs are at about market weight, how many are a month off to market, how many two months off, etc. How many hand widths they are off the stick gives me an idea of how long they need to grow through the roaster finisher period.
My hands are about a month wide. My nose to thumb is a yard – yes, I have long arms. My feet are almost exactly a foot long. My thumb is one inch. Rather handy to be the standard bearer of measures…
Outdoors: 14°F/-9°F Sunny
Tiny Cottage: 62°F/56°F
Daily Spark: Anticipation has always been worth more to me than reality. -Agnes by Tony Cochran
†Since we're still back in the 1970's I use inches and pounds here in the United States. I hear that soon we'll be moving to metric. Big government push for a united world. Maybe by when that clown Reagan gets elected. Can't wait for my flying car in 1999.
††Note that Live Weight WL is also often written as LW and Hanging Weight is often written as HW.