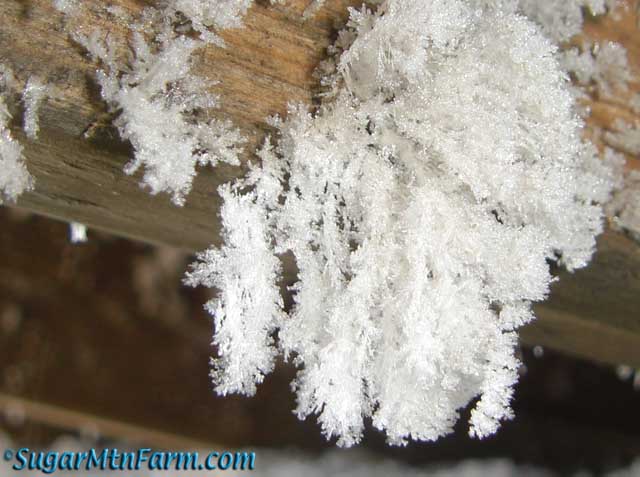 Hoar Frost on Spider Web
Seen in the South Field Shed.
Pig breath rises upward.
Freezes on cob web filaments,
and wooden beam splinters.
The picture is
hoar frost
that forms on spider webs, splinters, nail tips and other sharp points. These have low thermal mass and cool faster than the surrounding surfaces causing ice to form there first. Once the seed crystals are on the points they grow, sometimes becoming quite large with 4″ or even 7″ long crystals in the deep cold. We see this most around the springs and places where the livestock sleep over night because the water and animals are putting moisture into the air. If we have many days in a row of deep cold the crystals keep growing right through the day. That is when they become their largest.
Outdoors: 4°F/-17°F Sunny
Tiny Cottage: 63°F/55°F
Daily Spark: We know society is falling apart because all these people are walking around talking to themselves and hearing voices. I also see a lot of people who must be really cold because they're holding these little black heating pads up to their faces. Often they wave their arms around gesticulating to stay warm as well. Oddly I rarely see this out in the rural areas with no cell phone service…