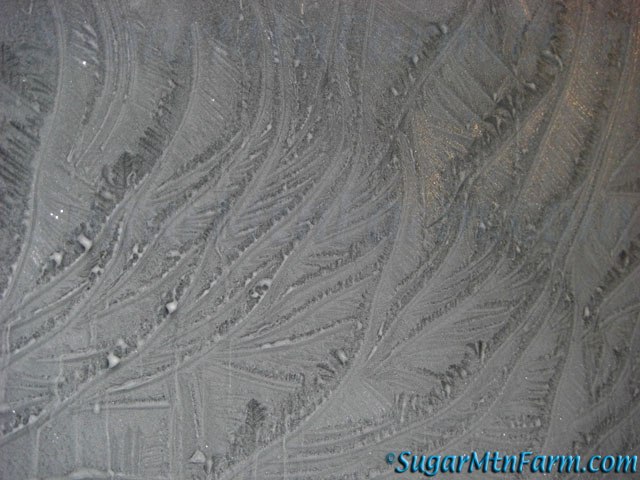 Ice Feathers on Window
Several people emailed asked if we were okay with the cold weather. We and the livestock are doing okay. I think that deep cold weather like this is harder on people who are not used to dealing with it, where it is a surprise rather than part of the pattern of life.
Dealing with winter, or any weather, largely a matter of thinking ahead, of planning. You can tell when the weather will turn like this because the stars get so sharp from the lack of moisture in the air up high. The horizon is a knife edge of clarity. That's a warning. It generally builds over a few nights.
When it gets this cold we hunker down after putting out lots of extra hay to the animals in anticipation of the cold snap. During these periods we do less in the way of outdoor chores, just the basics, focusing more of our attention indoors on plastering the walls of the butcher shop, metal working, reading and such. The livestock do the same, spending less time out and about and more time snuggled in.
Hay is piled strategically because tractor doesn't like to start when it gets this cold. If necessary we can flip big round bales by hand to the animals. We could start the tractor with the block heater and juicer but it is better for the equipment not to do so when it gets this cold. If we did start it then it should run for an hour or more to prevent damage to the engine, transmission and hydraulics. Idling is necessary contrary to the nonsense they're putting in the newspaper. Otherwise you could damage equipment worth tens of thousands of dollars and it will cost many thousands to fix it. False economy for a gallon of diesel.
We setup our farm so that it takes advantage of the natural lees to stay out of the wind and also to drain the cold air down further into the valley. Sleeping spaces, springs and way troughs are tucked in to take advantage of these microclimates.
Dogs on Snow
The dogs seem to love this weather – they're built for the arctic with their thick double coats, high metabolisms and huge snowshoe paws. Interestingly the coyote pack to our north was mobilized during this cold snap so our pack worked over time. For wild ones it is do or die. Daring into our pastures is a good way to die there so they skirt around us over the ridge avoiding our pack although the two groups talk back and forth about the issue.
A few litters of piglets were born during the extreme cold, one last night when it was 24°F below zero. They seem to be doing fine. Deep bedding packs, shelter from the wind and the sows's 103°F body heat all help. Hovers and creeps make a difference. Open greenhouses would be great but not something we have setup this year.
Today the chickens, ducks, geese and pigs are out walking around in the sunshine but go to bed early with the combination of dark and cold. I saw the geese taking a bath in their running spring waterer this morning. With it being below zero but the water being 40°F I suspect it feels toasty to them.
Oddly we got about twelve inches of snow during the extreme cold. It was very fluffy – the wind quickly packed it down to about 6″. Or maybe it blew some away. Snow in the deep cold is unusual and when it happens is very dry and light. It can come, settle and then all blow away into the woods. Typically when it gets extremely cold no snow falls as the humidity is so low the moisture just isn't there to precipitate. I've seen this happen before but it isn't common. The snow helps blanket everything and provide some insulation so it is appreciated.
Stay warm, out of the wind and don't touch metal.
Outdoors: -24°F/-1°F Sunny 12″ Snow packed to 6″
Tiny Cottage: 59°F/53°F
Daily Spark: How many ice breakers could an ice breaker break out if an ice breaker hadn't gotten stuck breaking ice trying to rescue a bunch of climate alarmist on a frozen jaunt in ship in Antartica in the middle of the southern hemisphere's summer? Two so far… Two more standing by ready to get stuck…