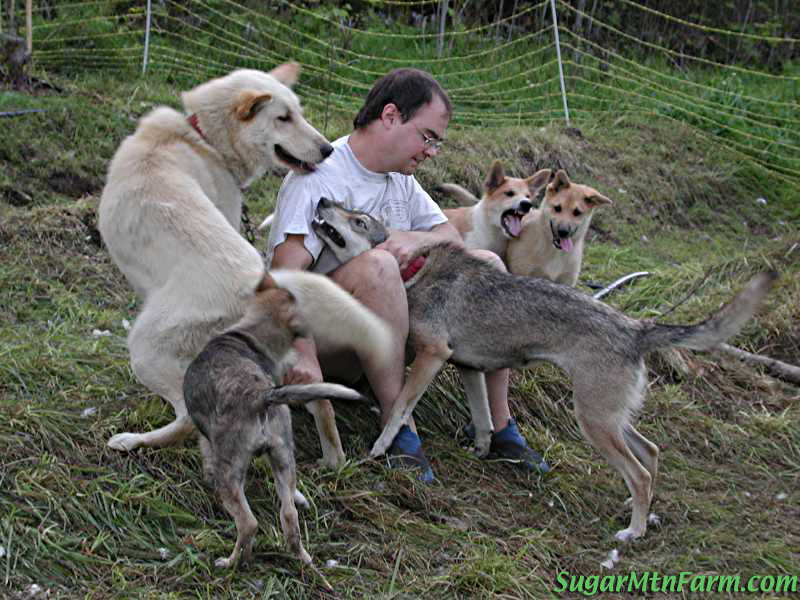 Walter and Friends in Warmer Days
Growing up I knew a talking sheepdog, one of those big long haired ones, who spoke a half dozen or so English words in a thick accent. No, he didn't have an English accent although he did vaguely resemble Hugh Grant… The dog, Teddy, used the words appropriately and was quite understandable.
As a result I've always known that animals could talk. Our dogs clearly use some of our English words just as we use some of their words and the common language of sounds and signs that has developed between us over the generations they've worked with us on our farm.

Just now the dogs were all in the cottage because we had a whey delivery in the yard. When the truck left I said, "Male Dogs Out". The alpha dog Kavi got up and went to the door. Before going out he paused and said back over his shoulder, "Out!" The other male dogs then got up and followed him. He spoke the word clearly using it in context and got the appropriate response. Everyone knew what he had said.
Another word they use is "Over" which means to step over to the side of the road or driveways because a vehicle is going to pass. We also use this in herding which means for them to step to the wing so the animals can unbunch and move forward. It is typically accompanied by a directional hand sign.
I hear them speak only a few of our names although they know all of our names and all of their names as we same them. Kavi has a name for Lili that the other dogs will sometimes also say.
Most of the dogs say "Hi" which comes out as a more drawn out sound of "Ahyeee" using it as a greeting. Occasionally they use this to ask for attention meaning, 'Hi, You, Pay Attention, I have something to say.' When you pay attention then they explain what is up.
"Whey" is a word a few of them use but it comes out more like "aye-hh" with a cough sound at the end. "W" like with my name is difficult for their tongue and voice box.
They also have an attempt at "UPS" but they can't do "p" or "s" so it comes out more like "uof" with a particular stop consonant at the end that I can't do. They say this when they hear the delivery truck, either UPS or FedEx, coming up the mountain. Kavi and Romula are the two who use this word the most. Interesting since Romula is perhaps the most silent, being Omega she rarely talks.
Speaking of Romula, one word she has spoken consistently is "Ow!" She learned this when I was taking porcupine quills out of her face. As I pulled them she had whined lightly at each. I replied, "Yes, Ow, hurts." After a few repetitions of that she started saying "Ow!" instead of whining. It hurt. She had a word for it. It seemed that having a word for it even helped as we continued the process. Perhaps she wanted to know that I knew it hurt.
Sometimes they'll clearly say "No!" about something, using our word rather than one of the several words for "no" that they have in their language. What is particularly interesting about that is they'll say it to each other. They're using English to communicate with each other in addition to their own language.
Then there is trilingual Katya. We use a huffing grunt "hu-hu" which means "move along mild danger" in the pigs's language. Katya picked up on my saying this when herding so she says to the pigs "hu-hu" as she helps to herd them. This is quite comical as she is 35 lbs and her herdees are 250 to 700 lbs each.
Katya also cusses sometimes. I have no idea where she picked that up or what exactly she's saying but the meaning is very clear and situation appropriate. That dog has a mouth on her, like a sailor. "mfain, fraff, nffraffin, mffrff…" she will mumble under her breath when she is plainly pissed about something. Note: Please don't repeat that as I don't know what it is she's actually saying. It could be terribly offensive in dog language.
She'll also talk to herself about her food, saying "Good, good, good" as she eats. The "G" is soft and almost indistinct but the rest of the word is clear. I think she's making happy food talk like some people do. "Mmmm, mmm, good!" I don't think she's ever heard the Campbell's soup commercial since we don't have TV or radio.
Most of the time the dogs stick to using their own language between each other but sometimes they'll use one of our words when talking to other dogs in the pack and they certainly understand our spoken words as well as the signs we use.
Interestingly, if I speak an English word with their accent they give me a puzzled look. Almost like, "What's wrong with you? Can't you talk right?" Little kids are like this too. They'll say "bobbum" for bottom and if you say it back to them their way they don't like that. They want you to say it properly.
We have a lot of phonemes in our language that the dogs can't pronounce or are at least very difficult for them. Esses ('S') are hard for them. Likewise you and I would get a sore throat trying to pronounce some of their language's phonemes. The result is they speak with a bit of an accent when they pronounce English words. I'm sure my renditions of words in their language sound a bit off to them too. I have a human accent.
Related Articles:
Makes Me Want to Gag
Remus Renegotiates
Doganomics
Katya the Creative Curser
Katya Gambling
Over!
Porcupines & Stock Car Racing
Communicating Complexities
Bilingual Dogs
Speaker for the Dogs
Dog Names
Outdoors: 24°F/14°F Partially Sunny
Tiny Cottage: 65°F/59°F
Daily Spark: English – A language spoken with a quaint and adorable accent by BBC.