Partition Pieces
The other day I mentioned that we were
placing partitions
. Those are 'ferro-cement' partition pieces above that we use to fill in holes and build non-structural walls. Rather than being made with metal (ferro) these are made with
basalt
and fiber but the principle is the same. Our walls are trusses so that the empty spaces can be used for storage. This makes it so that our tiny butcher shop is bigger inside and more of the floor space is useable.
Our butcher shop covers a range of masonry techniques including good old fashion plain steel RC foundation work, mold poured concrete, insulated concrete, stainless steel reinforcement, basalt reinforcement, fiber reinforcement, masonry block, dry stacked, core poured, mortared joint, parged, plastered,
ferro-cement
and cut stone. Each technique has it's place and I'm not wedded to any particular philosophy of construction. We even have a lot of standard 2xX construction for building the forms although that will all vanish in the end as it is neither sanitary or durable.
Toilet Tank Partition
When we
cast
the building we left
holes
for doors, windows, shelves, conduit and more. Some of these holes then need closure on one side such as shelves. Thus the need for partition pieces like the ones pictured here. These are made with an adobe concrete mix of 1 cement : 4 sand plus fiber and embedded 25mm basalt mesh. The fiber and mesh greatly strengthen the resulting partition panels.
Foam Template
To make the panels Ben cut out 1/2″ thick foam templates which he test fit to the holes in the walls. He then parged the fiber reinforced concrete mix on one side and laid in layers of basalt mesh. Once these cure for two to three days they're ready to have the foam template peeled off which can then be used to make the next partition.
Most of these ferro-cement partitions are just 1/2″ thick and have a single layer of basalt. Others like the toilet tank are structural so they're thicker and have more layers of reinforcement.
Theoretically the steel frame of the toilet tank is supposed to provide all of the support for the cantilevered wall hung toilet. I do not trust it not to crack the partition so I made this partition 1.25″ thick. Once we plaster the wall it will be a full 2″ thick and contain additional layers of basalt. There is also a strain relief gasket on the toilet side and on the tank side to mute the forces. Hopefully that will be plenty strong enough.
"Why not use a less expensive and much simpler floor mounted toilet you ask?"
Well, do you like cleaning bathrooms? No, I thought not. Neither do I, at least not more than necessary. By avoiding floor penetrations we'll be able to more easily keep the bathroom clean. In fact, our bathroom is designed to be hosed down. Nice!
You'll notice that a lot of businesses now have these wall mounted toilets in their public bathrooms. I saw them in the Vermont state tourist traps, er, I mean rest stops. They looked really good after five years so I noted the supplier they used.
We've applied these same principles to all the rooms of the butcher shop as a way of maximizing sanitation. By avoiding floor penetrations in particular as well as minimizing exposed pipes and wiring by building conduit and plumbing right into the walls we have smooth, easy to clean surfaces. That means better sanitation and less time spent on maintenance. The name of the game is clean – If it is easy to clean it will stay cleaner.
Testing Toilet Tank Partition Placement
The toilet is not actually functional in this photo. Before parging the partition in place Ben and I tested that it was right such that all the penetrations for pipes, pins and push buttons were properly aligned and the toilet was level.
One of the fun things about building the cottage and butcher shop is everything is right! Plumb, square, level, flush, right. For decades I've renovated old houses and nothing was ever right. I like things right. When I put in the foundation under the existing old hay shed 25 years ago I got it to within 1/4″ slope (just perfect for drainage). When we tore down the hay shed to build the butcher shop on its footprint I check and the foundation was still perfect. Very satisfying. The fact that I locked it into the mountain ledge probably helped. The butcher shop is set on that foundation which gave us a good start on getting the new construction right. Then with each layer of our cake we fine tuned.
Looking very carefully you might notice that this toilet has two flush buttons. The big one (blue) is for government compliance with low flushes. Apparently the government thinks it is better for people to flush multiple times or maybe they are retentive and never need as much water. The small button (red) flushes the amount that real people actually need to do the deed. This is how the toilet manufacturers deal with the regulatory bodies. It works. I might label them #1 and #2 to avoid confusion of which you need to do for doo-doo. Someone had a pictorial suggestion that was a bit more graphic.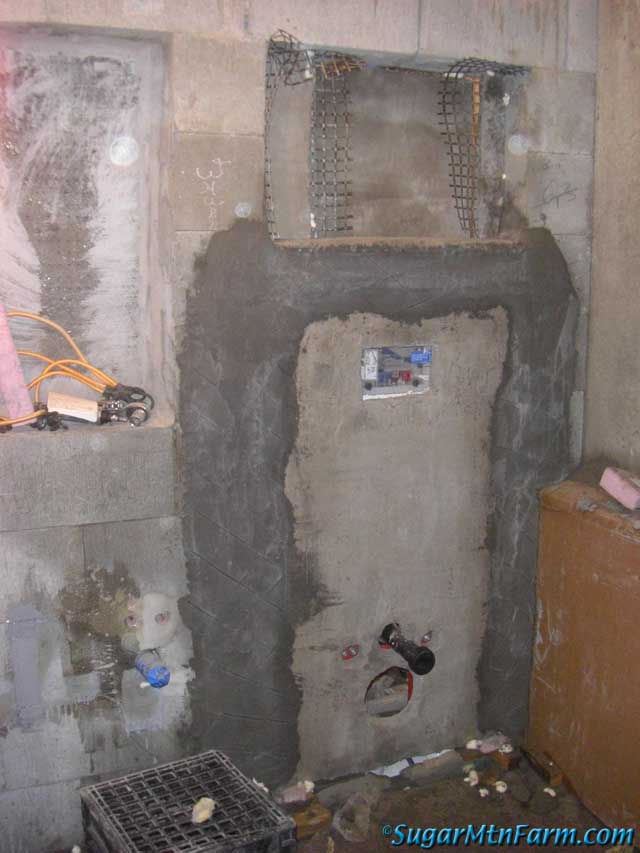 Shelf Hole
Once we got the structural toilet partition firmly parged in Ben and I placed the pieces for the shelves that go above the toilet tank. These have flaps of mesh that get interlocked and parged together to create a strong shelf built into the wall. Later Will may fabricate stainless steel doors for it but that isn't something we need to open for meat cutting.
Back Side of Toilet Tank in Office
The back side of the toilet tank is open for access from the office side of the wall. This is where I'll do all the plumbing interconnects and where my clean outs are located. Leaving it open behind a bookcase makes it accessible while keeping the bathroom side of things smooth and clean. I already
plastered
this side of the concrete block wall while Ben did the
ceiling
. This gives an idea of what the finished surfaces will look like. It isn't acid stained yet and doesn't have the final
poly urea
seamless seal but it is one step closer to finished.
We put so much effort into building the laundry and bathroom to the same specifications needed for actual meat processing rooms because these spaces are where we work out the techniques and materials needed to do the final work rooms right. Practice makes perfect. This gives us very easy to clean back rooms as an added bonus.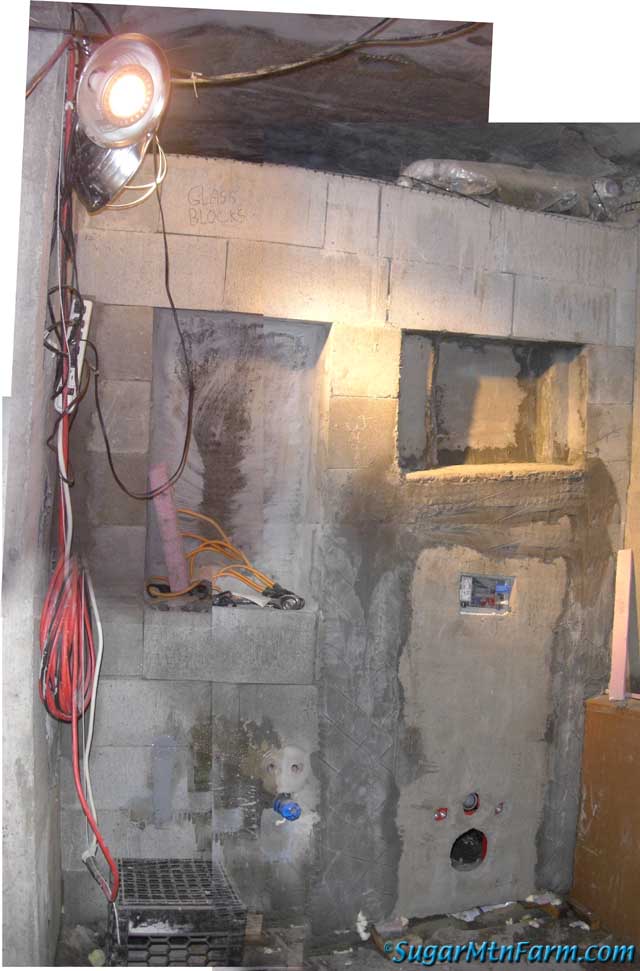 Partitions Parged
All the partition pieces are now locked in place with a mortar parge and it is curing. This is one of those wait times. A time to work on a different project. In a few days we'll come back to the bathroom and plaster this wall to bring it to full thickness. This picture's perspective looks a little funky because it is a composite of four photos all shot on wide angle. In reality all the angles are square and everything's plumb.
Excitement! It Flushes!
All systems functional! Yeah, we're hicks – We get excited over a flushing toilet.
By the way, in the back of these photos you might notice there is cardboard covering something. That is the marble wainscot. The cardboard protects the marble from my cement work.
Outdoors: 13°F/-3°F Sunny
Tiny Cottage: 66°F/56°F
Daily Spark: You are young until you can't plant an apple trees anymore.