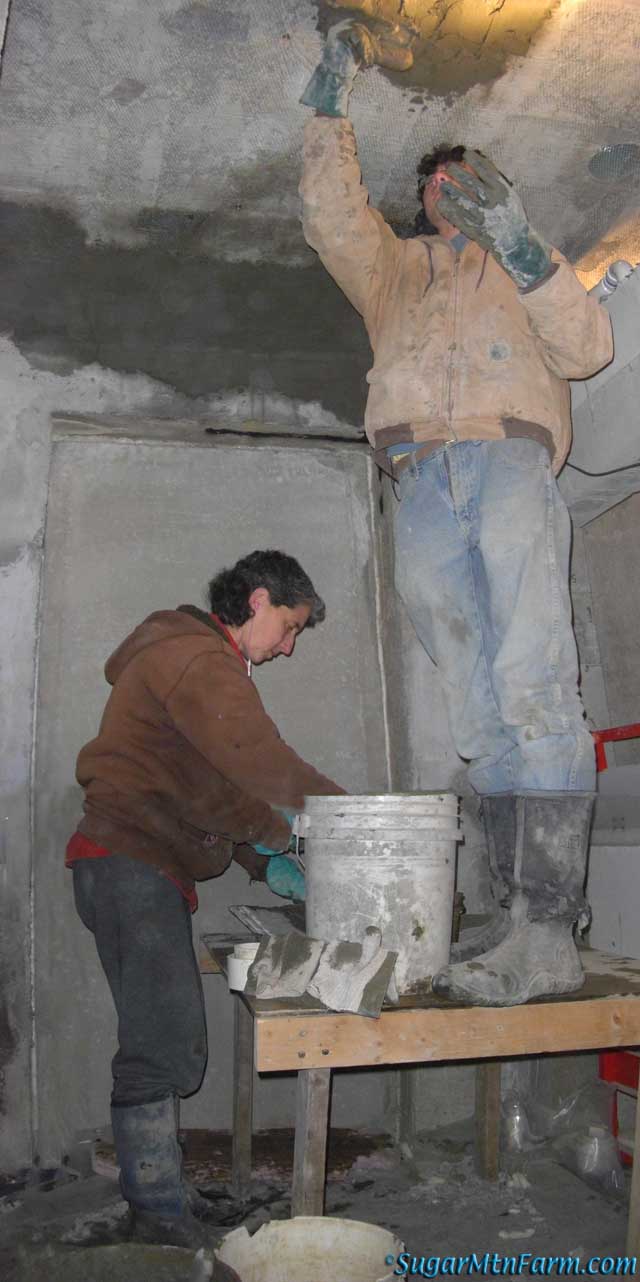 Ben Parging Inspector's Office Ceiling
We've been working on parging. Think of it as plastering the walls and ceilings but instead of using a plaster we use a 1Lime:2OPC:4Sand mortar. This produces a very durable, tough, dense, washable surface. Concrete is one of the USDA's preferred materials for building a modern sanitary meat processing facility.
After we grind the parge smooth we'll coat it with poly urea to seal each room from floor to ceiling. This summer I did testing of poly urea on a variety of materials. It's tough stuff and fairly easy to apply to properly prepared concrete, metal and plastic. It even goes on wood and foam. The thick seal means no cracks and crevices for bacteria to hide in.
Today I got the Toto toilet tank hung in the wall cavity. That's the red thing in the corner – in the cut out of the wall between the inspector's office and the bathroom.
The toilet in the inspector's bathroom is hung off the wall so that the floor is seamless with no pipes or fixtures. Again, this makes it easy to clean and keep sanitary. I've never hung a wall mounted toilet before so that has been a rather interesting new experience. I've improved on their design a little to make it even more robust. It is hung on concrete walls with buttresses rather than just screwed into wooden studs.
Outdoors: 8°F/-9°F Sunny
Tiny Cottage: 63°F/55°F
Daily Spark: My baloney has a first name, O. S. C. A. R. My hot dog is named Frankie. So I think I'll call my bacon Kevin…