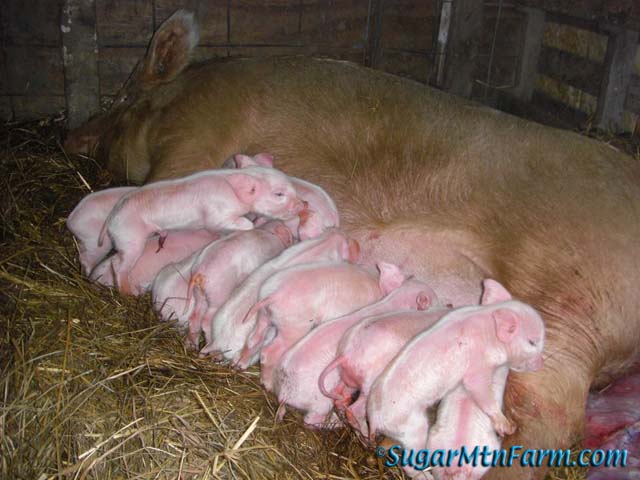 An Even Dozen Piglets
This past week we've had a surge farrowing with over 30 new piglets. There are many more to come from our winter sows who are in their late weeks of gestation. This group of sows were bred by Spitz in the north and have all migrated south for winter farrowing. Snow White, the
Mainline
sow above is in an open shed on the strawberry level with her newly born dozen piglets. The roof keeps the mud season and early winter precipitation off her bedding and the north and west walls block the wind.
We have a lot of variety in the color of our
pigs
. You'll notice all of her piglets are white.
Spitz
is a pure bred black Berkshire boar with white stockings and a white blaze on his face. What this tells me is that Snow White above is almost certainly a pure white pig, coming down from her Yorkshire ancestors. That is to say she only carries the white color genes. Just using this dozen white piglets gives odds that she is pure white of roughly 99.9756% which is a good bet.
In humans genetics, blond hair is recessive and dark hair is dominant. But in pigs it is the other way around, blond, a.k.a., white, is the dominant color and black is a secondary recessive followed by red, brown, yellow, etc. It's not quite that simple but that will do for today's lesson.
Those piglets above are all white because of the dominant white gene expressing it's color and suppressing any other color genes. They will be carriers of both Snow White's white gene and Spitz's black gene. If any of them were to have offspring we might see color in that secondary generation. Genetics is fun. It's like the game of Master Mind or Black Box where you poke and prod to figure out the colors and placements.
This is winter, whether officially nor not – We've had snows for a while. The sows who are farrowing at this point are all experienced winter tested sows. I figure our farm work is about six times harder in the winter and some days one doesn't actually get anything done – we just try not to slide down hill on the ice of life. For this reason we have most of our farrowing in the warmer months but we still need some piglets born over the winter to supply next summer's demand for finishers and this coming spring's demand for feeder weaner pigs. Winter is part of why spring piglets are so expensive, on top of the higher demand.
Yes, winter is hard. Like the old saying says, when the going gets tuff only the strongest thrive. I'm always looking for those thrivers in our climate's worst weather – Sows who can farrow in adverse conditions and raise up large litters of strong healthy piglets to weaning. Winter is a time that separates the warm season genetics from winter-ability. Selecting breeders who thrive through winter improves the hardiness of our herd over the long run. That's how evolution works.
Those pigs who aren't at the tip top of their class become feeders and finishers, going to market, culled from the gene pool. The cold season is not a time for gilts to learn to farrow but rather a time for the proven sows who have demonstrated their nest building ability, shown that they know how to lay properly and are winter survivors, nay, even thrivers, proving their mettle.
To get to this point sows have already proven themselves good mothers during the warm season and they grew up and lived through at least one previous winter. Now comes the advance degree work. Mature sows who prove themselves in winter conditions assure themselves of tenure in the breeder lineup for years to come. In turn their sons and daughters get bonus points and are more likely to get selected as breeders too as they were born of winter mothers during winter conditions. They are thrivers.
On the farm, as in nature, most pigs go to feeders, to finishers, to market, to market. Only about 5% of the females (gilts) become breeders. For guys (boars) the odds are much stiffer with only 0.5% making the A-List.
Breed the best of the best and eat the rest. It's my motto, one I learned from Mother Nature.
Outdoors: 36°F/20°F 4″ Snow
Tiny Cottage: 65°F/60°F
Daily Spark: The tricky part about getting the ball rolling is sometimes it rolls over you.