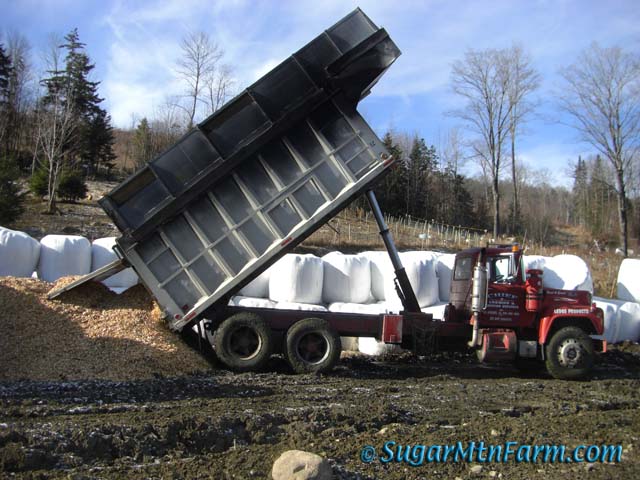 Wood Chips Dumping
It is quite amazing to watch Gary drive his huge extended top dump truck up our steep south field road to the plateau for dumping wood chips. The truck is extended about four feet taller with a wooden framework so he can carry extra chips. Good thing there are no low bridges or power lines between him and us.
Gary put several loads up there at the south field shed and in the wind shadow of the bales of winter hay. The pigs will enjoy these deep beds through the winter. The chips compost, accelerated by pig manure and urine, which produces warm bellies for the pigs during even the coldest weather.
Those pigs and chickens who want to can go under the sheltering roof of the south field shed, an open three sided structure. Most of the bigger pigs sleep out under the stars by their own preferences. In the morning they sometimes are snow covered. Since pigs are late risers I often come down and find them under a white blanket – we get snow almost every night once winter sets in. Their thick hair coat must keep the snow up off their bodies trapping a micro-climate of warm air near their skin. Pig's internal temperature runs about 103°F but I have measured their skin surface temperature at abut 60°F with the infra-red temperature gun.
Eventually the wood chips compost down to about 20% of their volume and we spread the resulting rich soil amendement on our orchards, gardens and fields to improve the fertility of our soils. Years ago the extension agency had recommended we buy and apply a lot of commercial fertilizer and lime because our mountain soil is so poor, thin and acidic. One agent recommended grazing livestock instead of spreading fertilizer and said that would gradually improve the soil. A slower method but a lot cheaper.
In addition to the dung and urine from the animals there is the nitrogen pulled down by the legumes (alfalfa, trefoil, clovers), the organic matter from the growing forages, wood chip compost from their bedding and the compost of the roughly 120 tons of winter hay each year, after it improves by passing through the animals. Gradually our fields are improving and in the meantime we produce meat, a side benefit which pays for the hay, wood chips and mortgage. Slowly our fertile area grows, year after year. Building soil for the future.
Outdoors: 37°F/24°F Sunny
Tiny Cottage: 66°F/60°F
Daily Spark: If you can't handle broken promises, don't read the weather predictions.