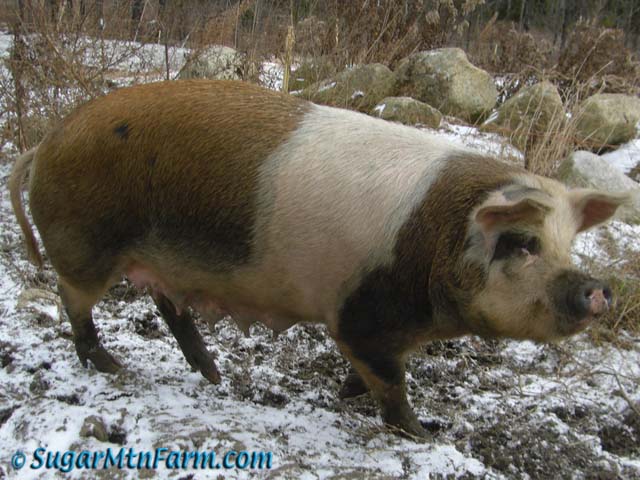 PB Just Before Weaning
It certainly has been a windy day! And snowy. We spent several hours weaning, inspecting, notating and sorting piglets down from the mountain. It's time. Everyone is moving off the high mountain pastures to the winter paddocks.
The sow above is named PB, short for Peanut Butter, and is one of the youngest in the BlackiexMainline genetics. Someone had asked what she would look like when weaning, wondering about condition on pasture.
PB Just After Farrowing
The above photo is from the article
Peanut Butter Piglets
which shows how she looked a few days after she gave birth to the litter we just weaned. She was in 'fine' condition, just like I like a sow to look when she farrows, carrying enough back fat to be able to produce the large quantities of rich milk that her piglets need to grow fast.
The answer to the question is she has lost some condition (back fat) nursing ten piglets but is still in excellent form. What I don't like seeing is when a sow goes peakid during weaning – their spine shows as their back fat decreases. For over a decade we have selected hard for sows that can gain weight on pasture and then maintain their condition on our pasture/hay+whey diet and through our cold winters. That is what it takes to produce strong piglets and give them a good start on pasture life.
Years of hard work that has paid off in gradually improving herd genetics. That's not to say we've reached the finish line. My targets are ever evolving and improving genetics. There is no perfect pig, just a journey forward.
Outdoors: 15°F/2°F 3″ Snow, Windy, A Little Sun
Tiny Cottage: 64°F/55°F
Daily Spark: Perhaps the problem was that Noah took two of each animal and eight people.