We're a little behind schedule and I do apologize for the delay to everyone who has been patiently waiting for the rewards of our project. As explained in the original project we are doing a lot of very innovative engineering and construction which will result in a very low carbon footprint, low energy use and low maintenance in a very long lasting building. Creating radically new and better things sometimes, in fact often, takes longer than can be predicted.
The good news is we are making progress and close to the point of being able to begin meat cutting in our own on-farm butcher shop. In fact, we're so close that our To-Do list on the construction is down to a single page: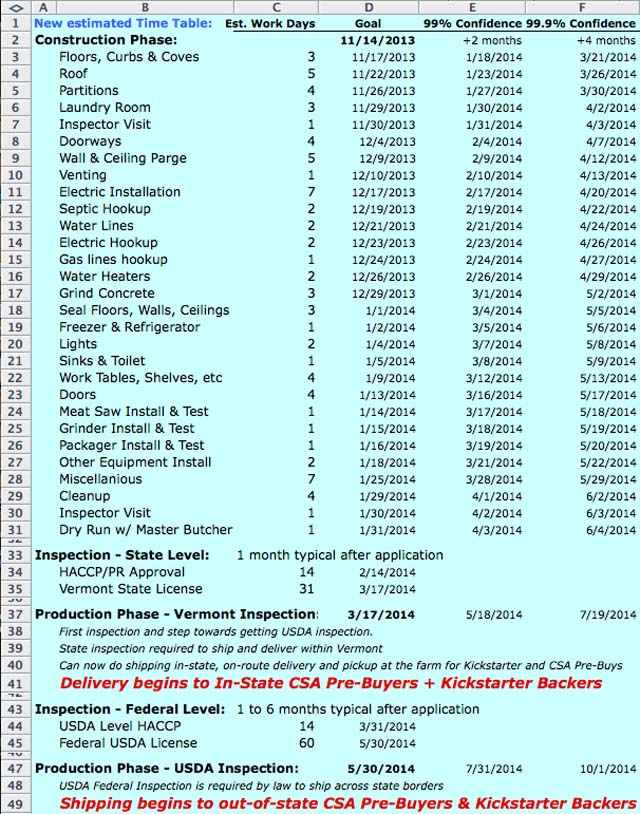 The CSA Pre-Buys and Kickstarter meat rewards priced are based on being able to do the butchering in our own facility and will begin shipping once we have the necessary levels of inspection (State vs Federal USDA). Rewards have been shipping that don't involve the needed inspection and on-farm cutting such as the postcards, calendars, goodie packages that didn't involve meat, Cole Ward Butchering DVDs, etc. For those who ordered meat, the goodies will ship with the meat packages in order to be most efficient with shipping cost.
The processing costs us 36% to 61% of every pig depending on what is done (slaughter, butcher, sausage, smoke). In addition to the economics we look forward to the day we won't have to get up at 3 am to drive all day each week to the slaughterhouse. Bringing processing on-farm is of the highest priority to us. Each day we make progress.
I'll continue to post updates as we make move forward. I tend to post about once a month on Kickstarter and much more frequently here on my blog. Updates tend to focus on construction since that is the happening thing right now. For a lot more detail and more frequent updates check out and specifically look in the butcher shop section where I share details of construction – details that other farmers and butchers have already started incorporating into their projects as we share what we have learned. For a full history of the updates see the Butcher Shop Tag which is always available in the cloud tag at right.
If you have any questions you can always reach me by email at walterj@sugarmtnfarm.com or leave comments here on my blog where I'll see them.
Thank you to everyone who has helped make the Butcher Shop at Sugar Mountain Farm become a reality and for your patience. We're almost there – close enough to smell the bacon.
Outdoors: 38°F/24°F Partially Sunny
Tiny Cottage: 59°F/56°F
Daily Spark: Do not confuse the motion of the trees with the wind.