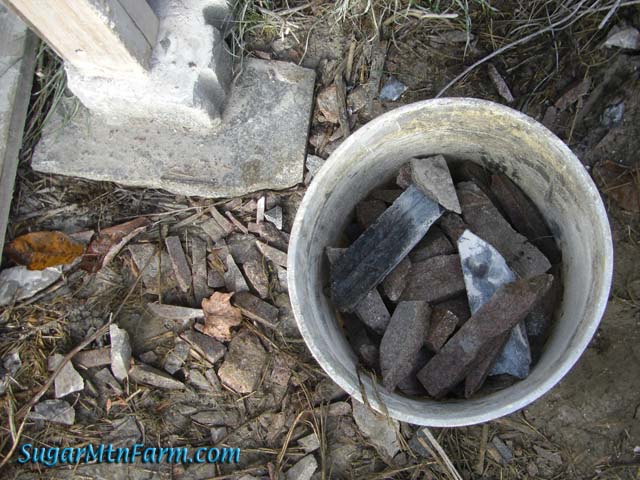 Bucket of Rocks
In cutting the sills for the doorways of our on-farm
butcher shop
our son Ben generated a lot of small, and large, slivers of stone. These are eminently useful in the work I'm doing right now of setting the screed line boards for the final hard floor pour of the admin section.
All these floors have to precisely slope to the drains so we won't have any puddling. To achieve that I have placed a set of inch and a half line boards around the perimeters of the rooms and then more line boards from the perimeter to the drains where there are long distances. This will make it easier to get the 1/4″ slope per foot.
The stone shims are handy because they come in a variety of sizes I can stack under the boards to set the heights very precisely. Thus the bucket of rocks.
This photo was taken out near Ben's stone cutting work bench. It is surrounded by chips of stone and looks like a convention of knappers has been through. It is fun to imagine what some future archeologists will make of such a stone age industrial site.
Outdoors: 41°F/21°F Sunny
Tiny Cottage: 60°F/57°F
Daily Spark: You can't kill all your enemies but you can teach them to be good.