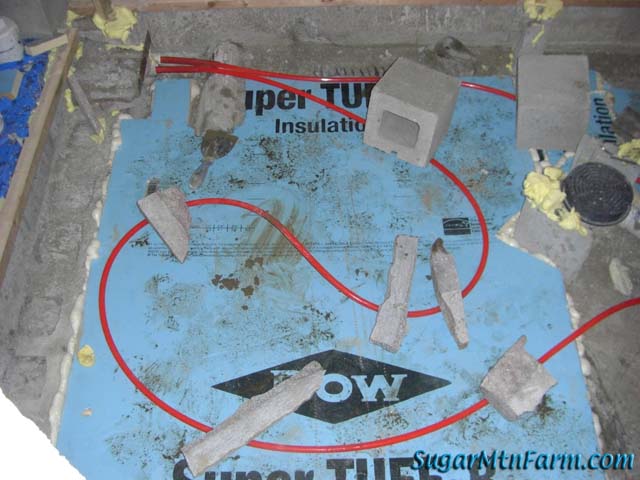 Bathroom PEX for Floor Heat
The 'waste' heat from our mechanical refrigeration system will be captured by a water heater exchange. From there some of it will be able to be dumped down into the slab below the bathroom and inspector's office through PEX oxygen barrier water lines.
The rocks are temporarily holding down the PEX lines as I work at getting them to cooperate with the curves I would like to have on the floor. I ran hot water through the tubing to get it to relax.
The foil backed foam below the PEX lines will help reflect heat back up towards the slightly isolated floor slab above. It is connected to the structural building around the edges where heat will then bleed up the walls. The structural building is insulated from the foundation and outside world to slow the escape of heat.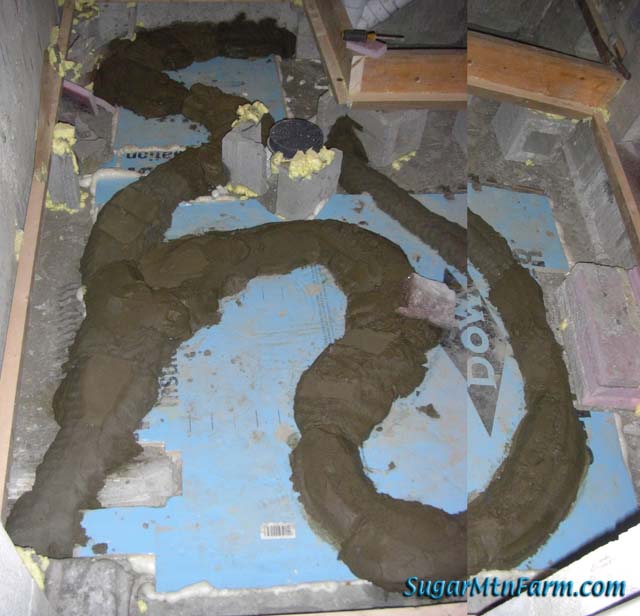 Concreted PEX Tubing
Once the PEX was the way I wanted it I lifted it half an inch off the foiled foam and encased it in concrete. This little hand pour was just along the lines of the PEX. Later we'll pour the entire hard coat of these rooms.
Outdoors: 58°F/38°F Sunny
Tiny Cottage: 60°F/56°F
Daily Spark: I'm a firm believer in global warming – I'm for it.