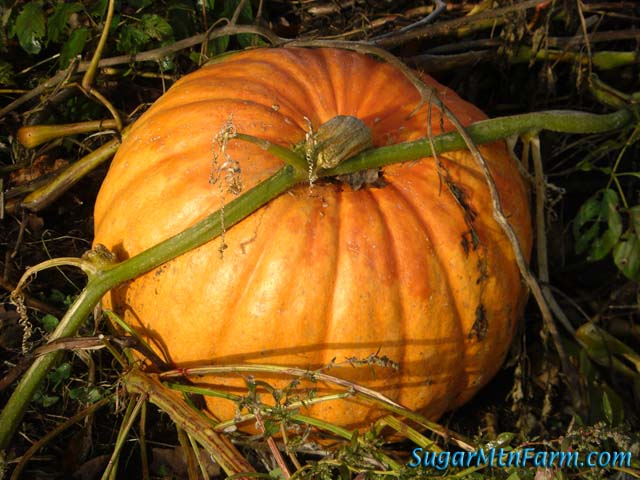 Small Giant Pumpkin
This is a little giant pumpkin, not one of the big ones. The photo lacks any good point of reference so the size is hard to tell. Perhaps I should have Hope inside it as it is about that big, maybe a few hundred pounds. I like this one because it is particularly well formed.
We grow a lot of
pumpkins
as they're something that is easy to grow in our climate and soil. Pumpkins make good fall food for the pigs. I wish I grew enough to last through the winter but so far that has never happened.
The pumpkin seeds are a natural dewormer but the pigs have to compete with me for seeds. I save those from the best pumpkins so as to replant again next spring. Over time the pumpkins are probably adapting to our climate – a good thing to have happening.
Hope got a tiny pumpkin from Killdeere farmstand in Norwich, Vermont when we were delivering the weekly order of meat there (they sell our pastured pork). That pumpkin is smaller than the stem on the pumpkin pictured above. We'll save those seeds and have fun with some tiny baby pumpkins next year. Quite the contrast to our usual pumpkin fare.
Outdoors: 37°F/29°F Partially Sunny, 1/8″ Snow
Tiny Cottage: 60°F/57°F
Daily Spark: Respect, Responsibility and appReciation are the first three R's we teach our children.