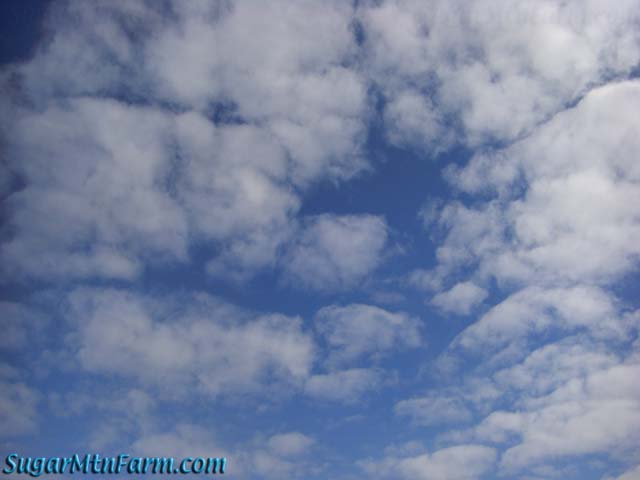 Blue Sky Snow
Yesterday we got the first fall frost. This morning the 'frost' on the ground looked suspiciously like snow. Later in the day it snowed several times. Nothing has accumulated on the ground which is still too warm but on cooler surfaces there was 1/4″.
Will has been finishing prepping for the roof coating. This will pitch and gutter so as to retain the winter snow as added insulation and prevent it from dropping the 20′ down onto people. Water will get sent to the corners where eventually the
gargoyles
will hang out waiting to spit on passers by.
Ben is finishing the last sill we need to do the final hard coat of the floors in the initial cutting room. This is a massive sill, an incline slope of granite, as it transitions up from the smokehouse, our initial cutting room, up to the insulated chiller portion of the inner building, the reefer.
This sill will actually consist of two facing nearly mirror smooth stones. For now we only need the first of them. It is split into two sills because the reefer is actually a separate building inside the outer structural building. Think of Matryoshka Russian dolls – thermoses within thermoses. The reefer floats within the butcher shop and theoretically could shift vertically slightly although after having had time to settle I don't thing that will happen. It has shown no inclination to move about so far but I plan to put nearly 100 tons of winter cold up in the coolth attic in a few years. We'll see what it does when supporting a nano-glacier.
I'm getting screed lines set for the pour which will lock in that sill. This is the final layer of concrete in the administration section of the building. It must all slope gracefully to the drains – a critical point. I must get this exactly correct so as to prevent puddling. After this there are no weavers to fix it. I practiced on the laundry and dry mechanical room I did last month. Those came out perfectly and as Ben said, "Three times the charm…" My approach, as usual, is to practice on smaller non-critical projects before tackling the important larger processing rooms that are regulated. This way I can get the techniques perfected before it matters.
Outdoors: 40°F/30°F Partially Sunny, Frost, 1/4″ Snow
Tiny Cottage: 60°F/55°F
Daily Spark: I always wake up on the left side of the bed.