Concrete Truck Chute
*Yawn* It was a boring pour. We like it that way. With the help of a friend we sailed through another pour, another step towards finishing the
butcher shop
and bringing meat cutting on-farm.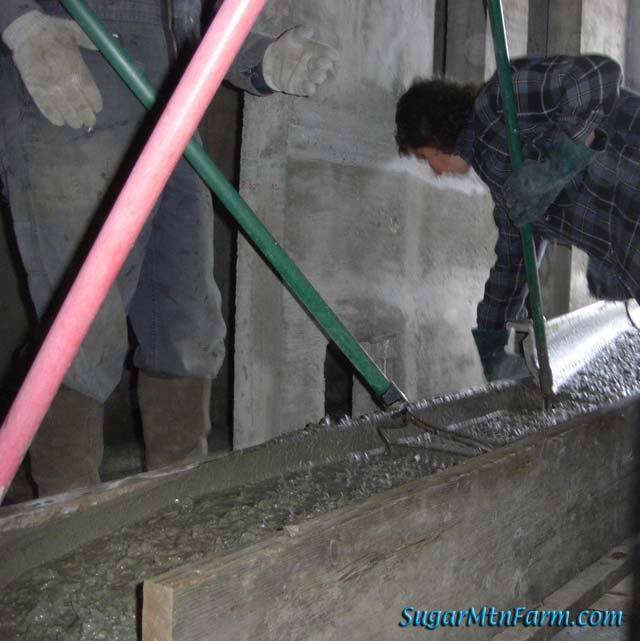 First Wooden Chute
Today we poured the concrete that filled around the
plumbing trenches
. This was a small pour of just five cubic-yards. Rather than using a pump truck as we so often do we used three wooden chutes that let us bring the concrete in through the front doorway, up the hall and then to the bathroom, initial cutting room and inspector's office.
Diverter & Turning Chute
Since the truck was barely tall enough to bring the concrete into the building this involved a lot of horizontal pulling with rakes and hoes. Team work – Think of it as like rowing a boat. All five of us were pulling in time.
Stroke! Stroke! Stroke!
*CRACK* goes the whip!
Stroke! Stroke! Stroke!
All the concrete came in beautifully. We were cleaned up and done in under two hours. A nice quick pour. A nice boring pour. Just the way I like it!
Next I'll be laying PEX pipes to dump excess heat from our refrigeration into the floors of the bathroom and inspector's office. Next I'll put in the screed line boards so we can pour the final hard coat of concrete for the floors in this first finished section of the butcher shop. That pour will hopefully take place on Friday of this week, maybe the following Monday. The price of concrete goes up every November 1st due to the added cost of the hot water they begin using then so we're hoping to have concrete done for the year before that.
Outdoors: 60°F/42°F Sunny
Tiny Cottage: 61°F/57°F
Daily Spark: You're not clairvoyant. Let the future arrive in it's own time and in it's own way. -Robin Bernstein