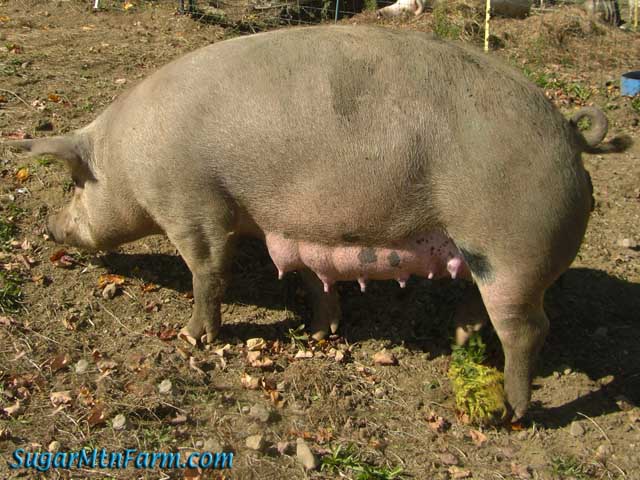 Sow About to Farrow
A frequent question I get is what does a sow look like just before farrowing, that is to say, giving birth. The sow in the photo above is two days pre-farrowing.
Her bag, a.k.a. udder or breasts, are completely engorged such that the skin is smooth and they're full. At this point sows will typically give milk although gilts (first time sows) may not. Older strong milker sows may actually drip milk just prior to farrowing.
Her vulva engorges at this point. Often sow's spine will flatten from the normal curve and she'll drop her belly as her ligaments loosen in preparation for delivery. The sow above still has a strong back curve.
Good sows see a private place and start nesting with what ever materials they can gather. In the fields they'll typically build their nests of grasses and other plants, creating a bowl a little bigger than their bodies. Typically about four feet across for gilts and as large as seven feet for big sows.
The sow above is in fine condition with a layer of back fat to give her the reserves she needs during nursing.
Outdoors: 62°F/49°F Overcast
Tiny Cottage: 62°F/58°F
Daily Spark: People who say it cannot be done should not interrupt those who are doing it. -George Benard Shaw