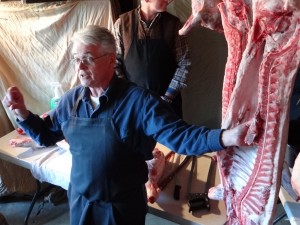 Cole Ward is holding a workshop November 8th, 2013 in central Vermont. For details check out this page.
Cole is the butcher we apprenticed with for 18 months to learn the art of meat cutting in preparation for opening our own on-farm butcher shop. He is a master butcher and a most excellent teacher.
This is a valuable opportunity – don't miss it!
Outdoors: 54°F/45°F Sunny
Tiny Cottage: 62°F/57°F
Daily Spark: Hope & Ben: Well, the can of Great Stuff Can-of-Foam said it was flammable so we lit a match… Guess what! It was!