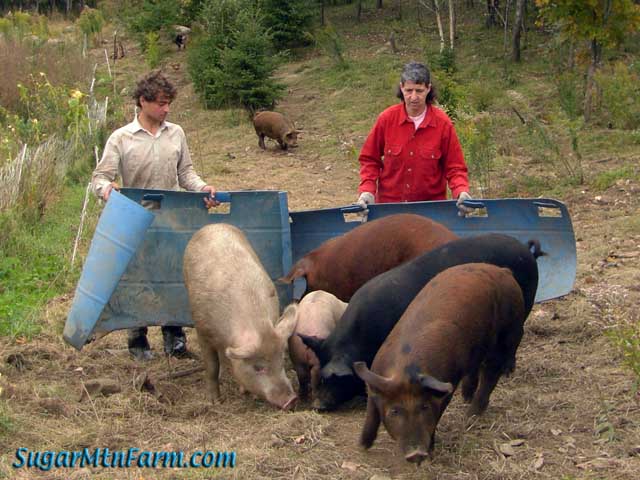 Herding Boars
This past month we separated our various boar groups from the heating sows and gilts so as to reduce the number of litters during the hardest months of the upcoming winter: January through March. Our goal is to be able to spend more time during the winter finishing off the next sections of the butcher shop including the cooler and freezer. This is something that must be planned out about four months in advance – the gestation period of a pig.
As a general rule it takes about six times more effort and time to do our farm work in the winter than in the warm months. The hardest part of that is caring with farrowing sows and piglets. By reducing the rate of farrowing we'll save a lot of time. To make up for fewer piglets we're keeping more sows. This may still make for a bit of a dip in finisher pig counts in the late summer and early fall of 2014 but having our own meat processing here on the farm will help make up for that.
So who are these hansom gentlemen? Glad you asked! Let me introduce you from right to left:
Spitzon is a very fast growing and friendly brown with black spots young boar out of Spitz, our Berkshire boar, crossed with our BlackiexMainline herd. He outgrew, by far, all of the pigs in his month cohort and even those in the two months before him. He'll be just coming into his stride as a breeder when we reintroduce the ladies to him this winter. I have high hopes for the spring piglets we'll see from him.
Ltnt, the black boar behind Spitzon, is an excellent young BlackiexMainline boar who is one of the top two candidates out of Zoro or Gomez. I'm actually not sure if this is Ltnt or his brother Ltnt2. Hard to tell in the photo. Like Zoro and Gomez they are nearly identical.
The red boar who is directly and behind Ltnt is the purebred Tamworth boar. He is a son Hamlet who was our purebred Tamworth boar. The Tamworth pigs do not grow as fast as our Mainline or BlackiexMainline pigs but the sixteen teats is his claim to fame that got him a spot in the breeder ranks. The goal is for him to pass the genes for extra teats on to his daughters crossed with our other breeding lines.
Handel is the fine white Mainline boar on the far left. He is out of Speckles. He has a strike against him for being a bit of a screamer as a piglet, something I want to breed away from, but his conformation and growth are excellent. Thus he's getting a chance to breed but I'm keeping a close eye on that trait in his offspring. This year I began tracking pigs who are noisy as a new selection criteria.
In the middle is a roaster pig who's caught up in the excitement of the parade. Everyone loves a parade!
Outdoors: 62°F/40°F Sunny
Tiny Cottage: 63°F/58°F
Daily Spark: If you want change, use bigger bills.