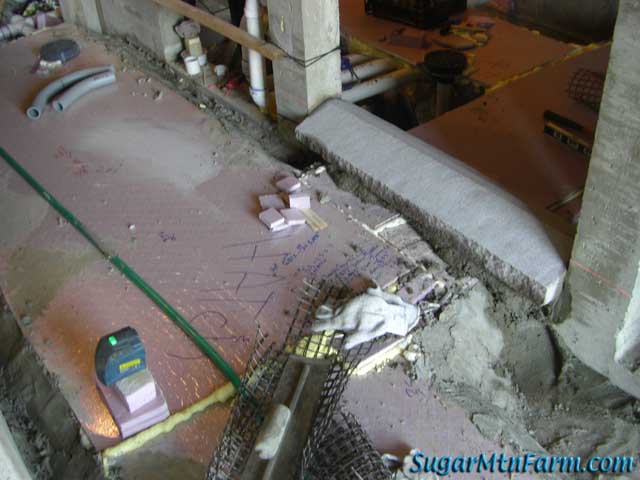 Red Granite Door Sill
With the placement of the red granite door sill between the administration and initial cutting room we have set the final heights of the floors in Admin. Once I had that in
place
I was able to set the floor drain heights.
The
plumbing trenches
are now covered over in a 1/2″ thick cap of pink foam which has a system of joists and pillars, also of pink foam, below. We'll do a
ferrocement
cap for strength so we can pour the final floors once all the door sills and access hatches down into the trenches are in place.
In farm news, boars are separated from sows for a few months in the fall with the goal of having fewer litters during the worst months of the winter so we'll avoid the worst farrowing weather and be able to focus more on finishing off sections of the butcher shop.
We did this last year so that we had few litters during the fall as we cranked up to our final concrete pour where we capped the butcher shop which was our biggest and most dangerous concrete pour ever.
We have to plan ahead these spells from farrowing by about four months – the gestation period. A trick is to keep a few gestating, that is to say already pregnant, sows with the boar herds for companionship. This keeps everyone happy. The boars keep checking the sows, monitoring their progress but don't get rutty.
As part of this we've moved almost all of the herds of sows, growers and finisher gilts south to eat the plateau which is full of pumpkins, sunflowers and sugar beets that have been growing in that winter paddock. We also opened them up to the far south field that has been growing all summer. That is one of our new fields that has come into high production of forages this year.
Outdoors: 69°F/40°F Sunny
Tiny Cottage: 63°F/57°F
Daily Spark: Ask not if the glass is half full or half empty but rather is the worm half there.