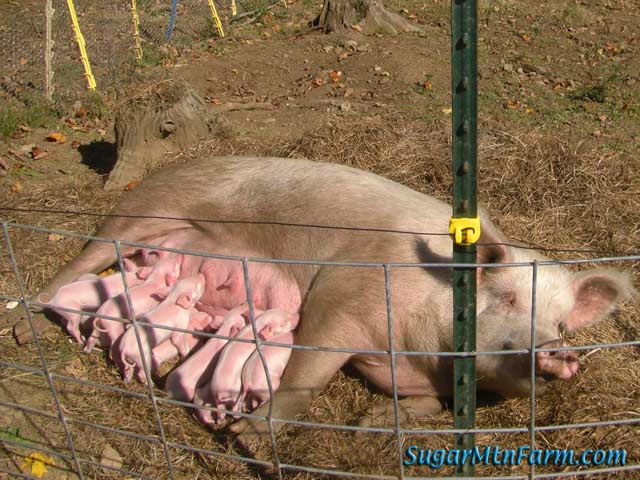 Happy Sow† with new Piglets
Joanna asked on Feeding Hay:
I am raising a hog for slaughter for the first time. I have read mixed reviews about worming or not worming the pigs. I bought Porkchop in June and he will be 6 months old on October 24th. I have never wormed him but he is growing well. I would guess he weighs close to 200 lbs now. What do you suggest to do about worming. Also, if I worm him now, how long should I wait before I take him to slaughter?
If the pig is doing well then there is no need to deworm it. If it is not growing well, looking skinny, wasting, scruffy, pale gums then it might be wormy. A fecal test will determine if so and what worms.

Based on your description I would not deworm. If you do deworm then allow at least the required withdrawal time before slaughter, preferably twice.
In the future, if you want to deworm the best time to do it is when they are weaner pigs and you're bringing them home to your place – this gains the most advantage from parasite control. Ask the seller if they have dewormed – many do routinely deworm all piglets.
There are a lot of things that naturally control parasite loads such as managed rotational grazing, soils that are naturally high in copper or sulfur, garlic, pumpkin seeds, whey, hot peppers, high fiber diets, good health, etc.
A small amount of 'parasites' have actually been shown to be beneficial – it is when they get out of control that it becomes a problem. Otherwise healthy animals don't tend to have a problem. Animals that are otherwise stressed may get taken over by parasites as they are opportunists who haven't quite figured out symbiosis. For more on this topic see Worms Au Natural.
Outdoors: 69°F/44°F Sunny
Tiny Cottage: 63°F/57°F
Daily Spark: Do not let the behavior of others destroy your inner peace. -Dalai Lama
†Happy is her name. She is called Happy because she dances around so much with her tail in the air. She is the daughter of either Jolie or Angela and she has a daughter called Happytoo. All very happy pigs. Temperament is highly genetic. Interesting, all of them are also very good adoptive mothers in addition to having their own nice big litters.