Another View of the same weaner paddock system from a different angle later after regrowth. Sows in distance are in a different paddock system beyond the road.
(While this article talks about weaning the principles here can be applied to nano-scale managed rotational grazing. Two or three pigs can be done on a quarter acre as shown here. Ten pigs can be done on a full acre with proper management.)
We generally wean piglets at around six weeks of age. Sometimes a little earlier, sometimes a little later depending on the season and conditions. Much earlier and the piglets don't do as well. Too much later and the sow becomes peakid and suffers loss of condition. Being nursed by a dozen hungry mouths is an extreme weight watcher's diet plan. Thus we search for a balance of the sow's needs vs the piglets desires around that age. At some point the sow will try to wean them by laying on her stomach to protect her teats but with so many going at her she can't get up to eat, drink or relieve herself. Eventually the piglets win the battle with her if we don't intervene.
Note: The two bare lanes in the back (far upper left of photo) are roads that lead up to high pastures. Those are not part of the weaning paddocks. We seed those and they grow up when their high paddocks are not in use.
Ben with Piglets in South Weaning Paddock
"
So why,
" you ask, "
do sows succeed in weaning in nature?
" Simple numbers. In the wild most piglets die before weaning age, typically eaten by predators. In the wild if a sow were breeding once a year and producing six piglets a litter, a small count, then she only needs to have 4.6% survive to replace herself and her 'romantic partner'. This means she can lose most of her piglets over the span of four years and still succeed as a breeder in the wild. By the time the piglets are of weaning age in the wild she usually only has one or two left and it is easier for her to break them of the nursing habit.
On the farm we have fences and livestock guardian dogs that reduce these rates of predation so there is a much higher survival rate of piglets. That means by the time the sow is ready to wean them she must deal with far more coming at her from all directions. After trying to wean them herself she gives up and lets them nurse long past the time they should wean. This would result in the sow losing her body reserves and becoming peakid, that is to say her backbone peaks up as back fat and muscle are lost. Thus we step in and help her.
When weaning the piglets we use a strongly physically fenced area distantly separated from the sows. Piglets can go through small holes so it needs to be tight fencing. The ideal setup is at least two fences between them and at least 50′ of distance plus electric on both sides. The best setup is out of sight, out of mind. About three days later the sows are drying up and the piglets are used to their new routine.
Weaned piglets go to weaning paddocks like the one pictured above which is a small managed rotational grazing setup separate from the herds. This gives us a chance to interact with the piglets to tame them. Out on the pastures they don't get much interaction with people so they need this chance to get to know that we're good, the source of treats, to herd and to follow. During this time the dogs also work the piglets to train them how to move as a herd group.
Electric fencing works very well with pigs. Electric is a psychological fencing so animals need training learn about it. Otherwise they may plow right through the lightweight electric fencing. Same as with sheep, goats, cattle, horses, etc.
If you look closely in the photo you'll see that there are several different fencing systems in these weaning paddocks. The piglets rotate through them starting at the most physically fenced hog panel section. Next they learn about electricity with a physical barrier behind it. Later they get exposure to netting and then gradually less and less electric fence. Notice how there are a lot of step-in posts – this gives a good visual for them to learn from. Out on the bigger pastures where they are born they might never run into a fence when their nursing with their mother. This setup makes sure that they're trained to all our fencing types by the time they graduate to the large pastures.
These weaning paddocks have been rotated through four times so far this year. After the pigs have been through a paddock this intensely it looks brown but there is still a lot of root mass which quickly sends up new shoots. They've flipped the top layer after grazing off the forages. As soon as the pigs are gone that springs up with new growth. I find that the pigs can eat up to 80% of the root mass and the paddock will still come back well. This is very intensive managed rotational grazing, more intensive than we do out in the main fields.
If you wanted to change the forage mix in a paddock the time to seed is a couple of days before moving out the livestock. This way they trample the seed into the soil and the seeds don't sprout until after the animals move on.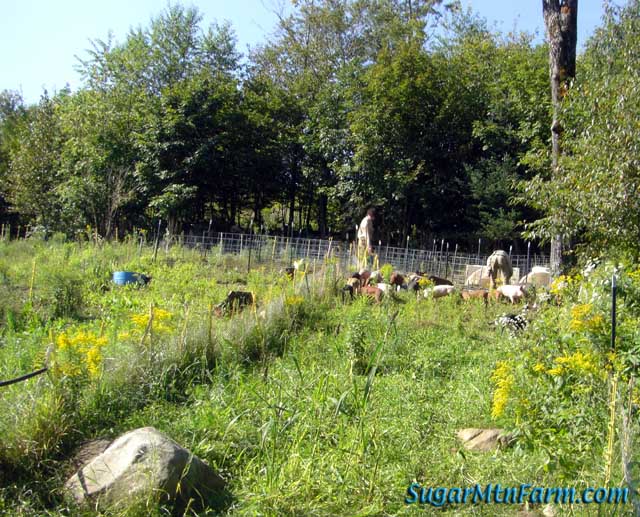 Bens & Shoat Pigs in South Weaning Paddock
With faster rotation the forages will come back faster but don't let that tempt you to put the next round of animals on too soon. I like to have animals off the paddock for a minimum of three weeks, preferably a month as that breaks parasite life cycles as well as giving the forages time to come back.
Managed rotational grazing
should be done based mainly on graze down (how quickly to move out) and forage regrowth after the life cycle break has been achieved (how long to wait before moving in).
You might notice the tall sunflowers between the paddocks. I was experimenting with growing sunflowers right in with the piglets. If the sunflowers get a good start then they coexist quite nicely with the piglets, providing shade. These ones are Mammoth sunflowers. They were about 9′ tall when I took the photo and taller now. For comparison, Ben's closing in on 6′.
The weaning paddocks also have shade from trees and a bit of forest uphill as well as water that runs through them in a series of barrel troughs from the brick spring up on Sugar Mountain. That is what the white and blue objects are further up the paddocks. The water flows from one to the next continuously and then out to the main herd through the south fields so they always have fresh mountain spring water.
Also see the Pig Page and follow the links to articles on rotational grazing and feeds. Also see One day of Rotational Grazing and How Much Land Per Pig. Another view in the paddock. And some regrowth as well as weaning info in Weaners Weaning Wee Wee Wee and Cohort Size and another photo of the weaning paddocks in Lard vs Bacon Pigs.
Outdoors: 60°F/40°F Sunny
Tiny Cottage: 61°F/59°F
Daily Spark: The problem with government is it is made of people with power.