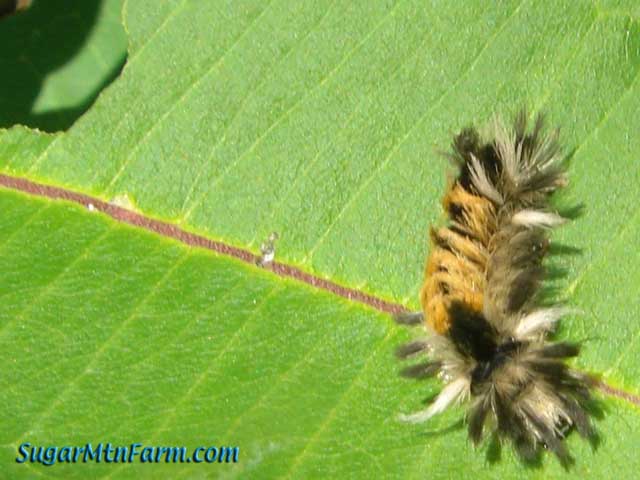 Caterpillar on Milkweed Leaf
I think this is a
Milkweed Tussock Moth
caterpillar. Another like the one of the
other day
. You can see some of the leaf has been eaten in the upper left corner of the photo.
Today Ben and I pulled more pipe sleeves for water lines. These will go below the concrete. By sleeving the water lines we'll be able to easily feed in PEX lines later. We also put in a vacuum line to the outdoors so we can easily clean the van each week.
The other big thing Will and I spent time on today was thinking about building a new meat transport for the van. For years we've been using a old ice cream freezer but that is rather inconvenient when dealing with large roaster pigs as it is top loading. As a practice welding project Will is going to build a stainless steel refrigerator box for the van that will have a bit more capacity and be a lot easier to get meat in and out of.
There will be a period of time after we have on-farm butchering but before we have on-farm slaughter where we'll still be taking pigs down to the Adams Farm Slaughterhouse in Massachusetts. We will be bringing back primals and whole carcasses which we'll cut and use to make sausage. To do that we'll need a better cold storage space for the van.
Outdoors: 61°F/34°F Sunny
Tiny Cottage: 65°F/60°F
Daily Spark: "The greatest fine art of the future will be the making of a comfortable living from a small piece of land" -Abraham Lincoln