Animal House – Tank Bottom
It is handy to have easily moveable houses out in the fields for small animals. We have made a number of
sow huts
(not so easily moved) and
piglet huts
out of old broken water tanks.
How the Other Half Lives – Tank Top
Sixty-five gallon
barrels
work for the smallest piglets and as good spots for a chicken to hatch a clutch of eggs. However, the piglets quickly outgrow those small houses.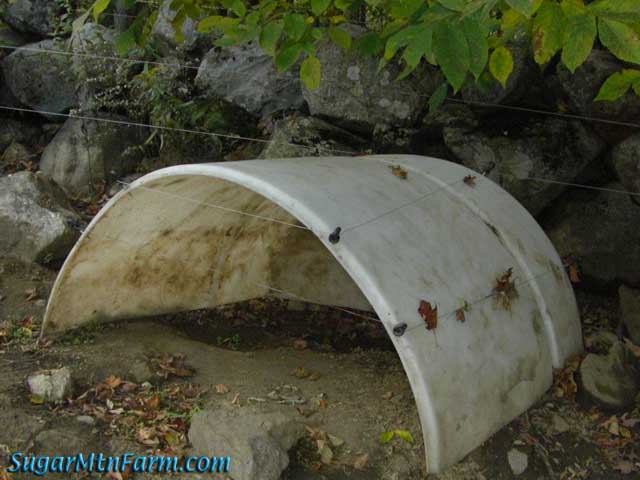 Hut Made from a Round 725g tank
This summer we needed a couple more but didn't have another dead tank to use. We wanted something larger than the barrels. Our local barrel man who sells food grade recycled containers has some 275 gallon tanks that come in steel cages. Perfect!
Once removed from the cage the poly tank got split in half, a door added and hot wires to convince the sows that these were "No Touch" items. Piglets are then able to have a safe shaded spot where they can gather, party and plot the overthrow of the world. The door allowed us to lock them in when needed. The whole hut is a creep letting us give the piglets things like boiled eggs.
The top half of the tank has a inflow hole that acts to ventilate it and the bottom half has the old valve position.
In addition to being used by the piglets various poultry often use these shelters out in the fields. They are light weight and easy to move around.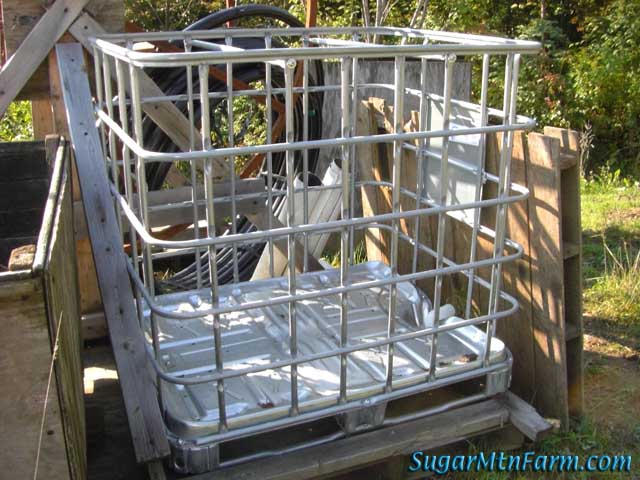 Free Hay Feeder with Every Purchase
As an extra benny the metal cage that comes with the tank can be used as a hay feeder and there is a 'free' valve on the tank that can be used for water and whey lines.
Simple recycling and repurposing.
Outdoors: 57°F/55°F 2″ Rain, 2″ Rain
Tiny Cottage: 64°F/60°F
Daily Spark: Someone once asked Albert Einstein how many feet were in a mile. "I don't know," he replied, "Why should I fill my head with things like that when I could look them up in any reference book in two minutes?" -Anon