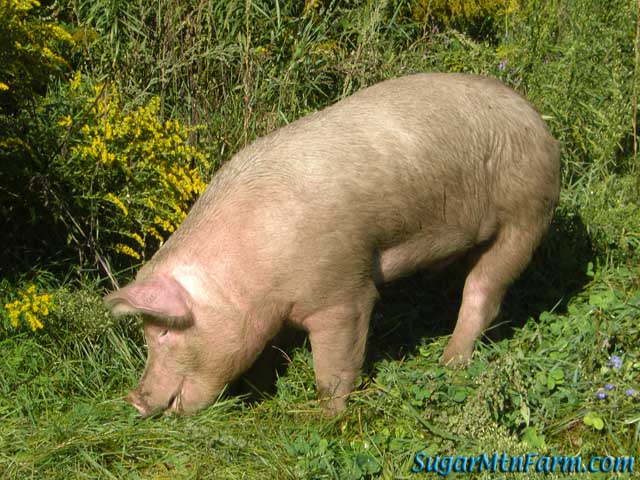 Finisher Pig on Pasture
Occasionally someone tells me that one can not raise pigs on pasture without feeding them a balanced commercial hog ration, that pigs can't eat grass, that they won't grow.
When I went out and explained this to this pig he:

A) Laughed so hard that he rolled down the mountain;
B) Rolled his eyes at such foolishness; or
C) Ignored me and continued eating the pasture.
Reactions from the pigs vary so we really need an option D – all of the above.
Finisher Pig on Pasture after he got done laughing…
The pig in the picture above has lived his entire life on our farm. He was born here. He was conceived here. His mother and father were born and conceived here. In fact, many generations of his family were born on our land. It's a tradition in their family. They're real Vermonters. It's been a decade without any of them having ever tasted commercial hog feed. They've never had soy based feeds. They all grew up on pasture and that is the vast majority of what they eat.
In the warm seasons they eat the pasture directly. In the winter they get it as hay. I buy tens of thousands of dollars of hay, over a hundred tons of winter hay a year to feed them through our snow bound cold season. I wouldn't be spending that money for chuckles. I buy hay because the pigs eat it all winter long. It's their version of canning just like our family putting up vegetables to eat over the winter months.
I've had people tell me that pigs won't grow on pasture unless they gets a balanced commercial grain based supplemental feed. We feed whey which boosts lysine (an amino acids) – lysine is low in pasture. I've raised several groups of pigs purely on pasture without even whey. They grew several months slower and leaner but they still thrived. With the dairy their growth rate picks up to almost the same as the commercial hog feed fed pigs but they taste far better.
We also have apples, pumpkins, sunflowers and such, many in the winter paddocks that the pigs then self harvest late in the year as the pastures wane. For more about how we raise and feed our pigs, see the Pigs Page.
The finisher boar pig in the photo above was just over eight months old when he went to butcher this past week, the day after I took those photos. He hung at 215 lbs with a live weight of about 300 lbs. That is a most excellent weight, especially for a pig who came in through our winter season.
In addition to the meat from pastured pigs tasting so good he got the opportunity to live his live outdoors in the sunshine and mountain air, socializing with other pigs. A sweet life it was.
Outdoors: 54°F/34°F Sunny
Tiny Cottage: 64°F/61°F
Daily Spark: What is seen as good luck is often carefully planned.