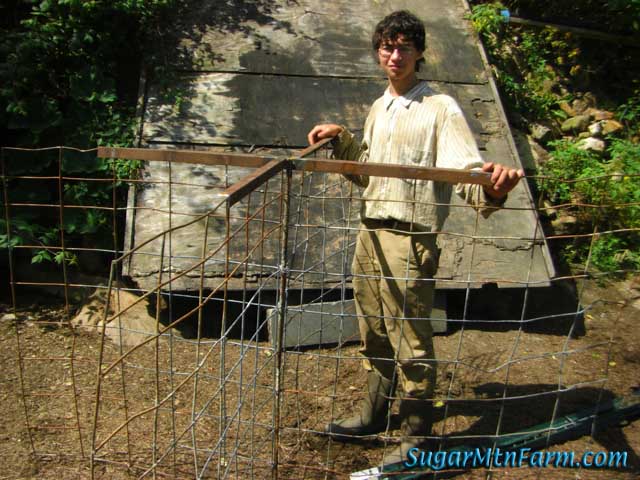 Ben with Upside Down Trough Divider
We've experimented for several years with a variety of dividers for the big 300 gallon rubber
troughs
we use for
whey
. Recently Will and Ben built a divider that lets four different field groups share the same trough. Welding is a very handy skill.
The divider is made of iron bed rails welded in the shape of an 'X' to a section of fencing. The iron will rust in the whey but that is actually a good thing as it is putting iron into the pigs's food – something they need in their diet for good health. An old farm trick is to toss a piece of scrap iron such as a broken frying pan into water and feed troughs so the animals can get the necessary dietary iron.
The divider sits low in the trough so pigs can't go under it and there are rocks in each of the four divisions so that if a pig falls in, or more likely is pushed, they can easily get back out.
Outdoors: 71°F/52°F Sunny, 2″ Rain
Tiny Cottage: 66°F/62°F
Daily Spark: I do not want to achieve immortality through my work. I want to achieve it by not dying. -Woody Allen