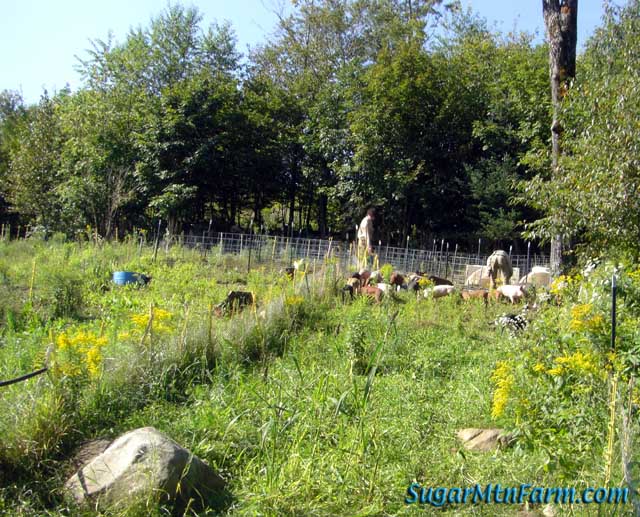 Bens & Shoat Pigs in South Weaning Paddock
We have an opening for a
whole pig
(or two halves) in the first week of September. If you're interested, contact me via email at
walterj@sugarmtnfarm.com
.
Pigs go to market weekly so if you miss this opportunity you can book ahead in October or later. Generally it takes one month to get into the butcher's schedule.
Whole pigs are $3.50/lb and generally hanging at 180 lbs (~4 cubic feet)which is about $630 for the pig plus $55 for the slaughter (scald & scrape) + $150 for butcher (vacuum packaged) for a typical total of $835.
Half pigs are $4/lb hanging at around 90 lbs (~2 cubic feet) which is about $360 + $33 (slaughter) + $85 (butcher) for a typical total of $478. Split a half with a friend if you want less or get the whole pig and split with friends to save money with a lower price per pound.
Linked sausage are $2.50/lb for Hot Italian, Sweet Italian and Kielbasa.
Smoking is $2.50/lb which takes about an extra month typically depending on the smokehouse schedule.
Delivery on our weekly route is $10 or you can pickup at the farm. Shipping FedEx is available and typically runs about $400 to $600 additional per pig based on location.
Actual final price depends on hanging weight, smoking options, sausage options, delivery, etc.
A batch of hot dogs is about to come back from the smokehouse so if you order a pig and want some hot dogs too (+$4.50/lb with pig order) be sure to let us know and we'll save some out for you.
---
Curious about what is in a pig share? See these articles:
What Good is a Pig: Cuts of Pork Nose-to-Tail
Outdoors: 76°F/57°F Sunny
Tiny Cottage: 66°F/62°F
Daily Spark: Being lucky often means being ready.