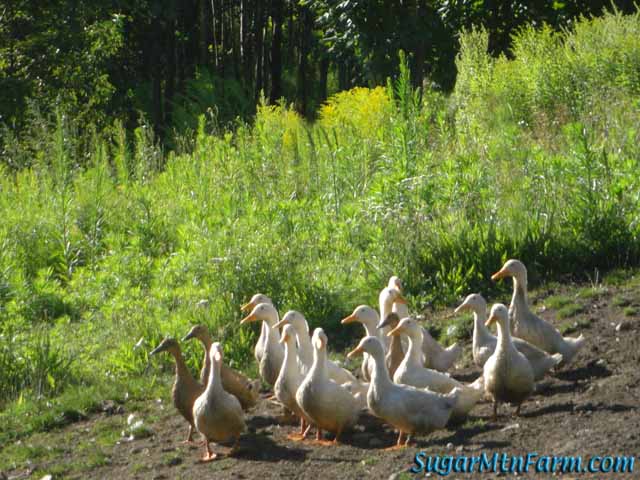 Ducks in South Field Lane
On the post Big'Un Tusks Jeremy asked: "What makes you decide to use certain dead pigs as food for the dogs? Is it simply the size? Or do certain pigs hold more sentimental value compared to others? I find myself thinking quite often about what to do with dead animals on a farm, and I'm sure some animals will be "more equal than others".
No sentimentality involved: A dead body is a dead body is meat is food as any pig will tell you. Do not fall down unconscious or dead in a pig pen unless you're willing to become part of the food chain. Chickens are similarly inclined to eat anything and anyone.

The dogs are more sentimental, they won't eat each other unless they're starving, although they are willing to eat any pig – no sentimentality involved. They also eat coyotes and foxes. Total lack of professional curtesy there…
I am practical like the dogs, not quite as practical as the pigs and chickens. I like the pigs when they're alive but they are livestock. They are food. They have a designated purpose which is to become meat eventually. Even a big boar like Archimedes who I've known for eight years or a big sow like Mouse, Petra[1, 2], Anna or Blackie. Alive they are a pig. Dead they are meat.
Really it is a question of health of the pig. Will eating it make the dogs sick? Normally meat is considered sterile and healthy. But some problems can make it no so. For example if a pig gets septicemia then it's entire blood stream and thus the meat has become a bacterial growth medium to the point of killing the pig. In such a case, eating the meat could make the dog sick. This is despite the fact that dogs like to age their meat in a pit. I'm just not going to risk it.
With food for human consumption we are even more picky. That is why the USDA has rules that the animal must be inspected for health and it must also be ambulatory, able to walk in to the slaughter facility – ante-mortum inspection. Then the carcass gets inspected again post slaughter (post-mortum) to check the lymph nodes and other aspects for any sign of disease before it can be approved. If there is anything wrong it is condemned and disposed of as inedible, unfit for human consumption.
I just got indoors from dealing with one like that. It was a gilt that had "hardware disease." That is when an animal eats a piece of barbed wire fence† or something else that perforates the digestive tract allowing gut bacteria into the body cavity. By the time you know it has happened it is too late – the pig is dead. Since the dogs have plenty of other food that gilt went to the compost pile rather than risking our dogs's health.
There is also a matter of volume. We have meat for the dogs and chickens every week from slaughter left overs. If all of a sudden we have another 1,000 lbs of pig on hand it may simply be too much. In the winter that will freeze rock hard (think as low as -45°F during the day at times) and in the summer it will rot long before it could get eaten. So putting much of it to the compost pile is the solution. This returns the nutrients to the land from which we all came.
Outdoors: 75°F/68°F Sunny
Tiny Cottage: 66°F/62°F
Daily Spark: It is good to have a comfortable birthday suit.
†We are forever cleaning up the barbed wire that people put in here during the 1800's and 1900's. It's nasty stuff. Don't use barbed wire.