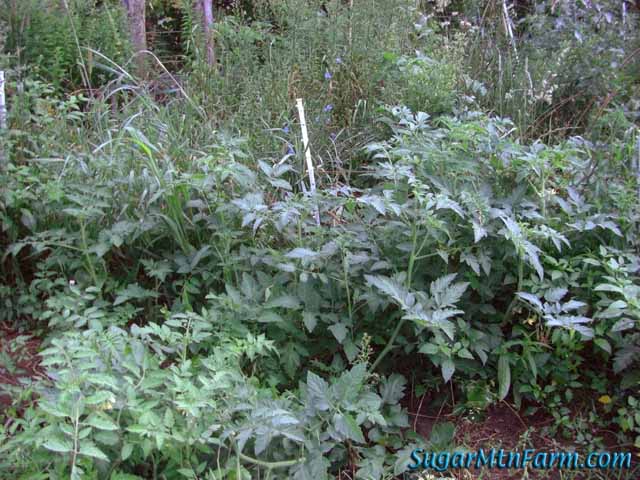 Wild Tomatoes
I have disabled XMLrpc on my blogs because a hacker/spanner/attackbot used up a month of bandwidth trying to unsuccessfully hack in through that file to my
NoNAIS.org
site. In my testing I see no problem as a result of disabling XMLrpc.
If you don't know what I'm taking about, don't worry about it.
If you don't see this message, then there might be a problem. :}
If you begin having trouble with this site please let me know by emailing me with details.
The part that is a big bummer is most of my bandwidth for NoNAIS.org got used up by the hacker in their unsuccessful attack so that site may go down part way through the month when it runs out of its bandwidth allowance. The web host wants more money to upgrade the account. There is nothing I can do about that. Fortunately in September the allotment for NoNAIS.org will start over and the site will come back up if it goes down.
Above is a photo of some feral tomatoes. They go wild out in our fields, spread from seeds eaten by the pigs, chickens, ducks and geese. Some of them have tomatoes the size of baseballs already although none are ripe yet.
This year I'm not actually growing any captive tomatoes – rather all of ours are free range like these. Interestingly, without any staking they're producing very thick stalks that keep them upright rather than creeping along the ground as I would expect given that tomatoes normally are caged. Cage free tomatoes, all the new rage.
There are also volunteer kale, rape, broccoli, potatoes, pumpkins, squash, sunflowers, sunchokes, tomotillos and other plants out in the fields that have made it through many winters. These are not supposed to do well in our climate, being dizens of Mexico. Illegal immigrants perhaps? In any case they're thriving. Both the livestock and we love the delicious foods we gather from these wild ones.
To encourage these feral crops it is important to carefully manage the managed rotational grazing patterns. If livestock are put in at the wrong phase of plant growth they just kill off these volunteers. With the right grazing pattern, putting the animals in when the plants are mature and have fruited, the animals spread the seed.
Outdoors: 74°F/58°F Sunny
Tiny Cottage: 66°F/62°F
Daily Spark: Make new mistakes.