Toto Toilet Tank
That strange contraption is the in wall toilet tank for the office in our butcher shop. The toilet will mount on the wall and the toilet tank will be hidden in the wall. This leaves nothing on the floor with far fewer cracks and crevices so cleaning is easier.
Previously the office and the bathroom were all one structural space. We then built a mortared block wall which contains plumbing cavities so all the pipes can be hidden away.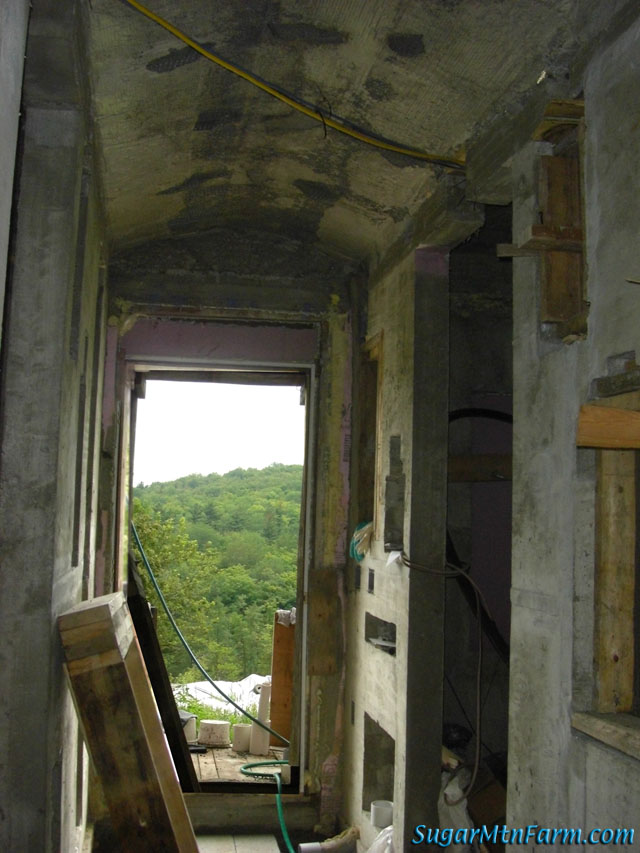 Administration Hall Looking East
This is the hall of the Admin section of the butcher shop. This is the first area we're finishing off. Straight ahead are the steps leading out front and down to the sidewalk and inspector's parking slab. To the left is the future warm kitchen and smokehouse. To the right is the inspector's office and bathroom.
Right now I'm doing other plumbing while I wait for my polyurea floor coating tests to cure and age. The place looks like a tornado hit a plumbing supply company. Parts and pieces everywhere. Will and Ben had made me some very nice tower shelves which have helped greatly in keeping organized.
Ben has been working on disassembling the interior formwork in chiller. He just finished up removing forms from FCB (Freezer-Cooler-Brine). The space is quite amazing with its cathedral like high arched ceilings and natural cave coolness in the middle of hot summer days.
Will's been building a granite culvert shroud so all this rain we've been getting will be better handled.
Hope helps out with odd jobs sorting screws, cleaning up and disassembling with Ben, sometimes helping Will or I as well. Girl Friday.
We've gotten some nice sunny periods so the pastures are bursting with forages and the gardens are exploding with growth after all that rain. Pigs, piglets and poultry are very happy.
Outdoors: 78°F/54°F Sunny, 1/2″ Light Rain
Tiny Cottage: 72°F/65°F
Daily Spark: Feed for flavor.