Sows in New North Home Field – Click for Big View
Back in the spring the sows and Spits had
migrated north
to the North Field paddocks. On Sunday our Berkshire breeding boar Spitz and over sixty sows and piglets headed south across Sugar Mountain to new pastures closer to our cottage. We began by simply calling in most of the northern herd down from the mountain and opened up the lush fresh ungrazed
North Home Field
pasture. Hog heaven.
Panorama View of North Home Pasture – Click for Big View
Will had setup the gates so they acted like '
lobster trap
' style funnel that the pigs will enter from one end but are unlikely to go back through. Instead they go up to the new pasture in the North Home Field. Pigs have a very strong homing instinct but it is instinct, not intelligence. This makes them very easy to control in mazes by setting things up to guide them to do the behaviors we want. Think of it as marketing for pigs.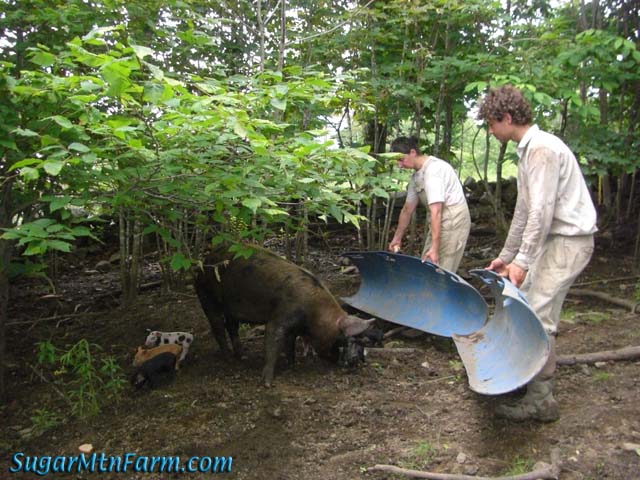 Holly & Will Guiding in Stragglers
Once we had in those who came by voice Hope stayed at the gate with a bucket of treats of bread
†
while the rest of us headed across the mountain with
sorting boards
and
herding dogs
to pickup the stragglers. Most of these late comers are sows who were starting to
build nests
in preparation for
farrowing
or who had already farrowed and have little
piglets
.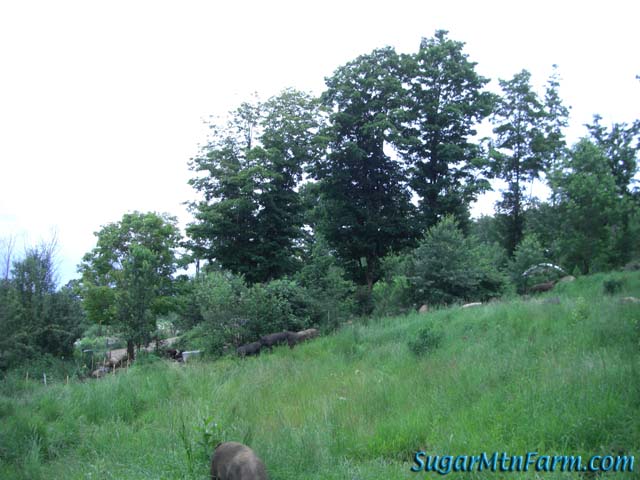 Looking across the hillside towards Spitz with Ladies
Most of this pasture in the North Home Field is grasses and clovers. The grasses are tall but quite tender right now – this is before they get to the stalkier stage so it is ideal grazing. The big breeders can handle the rougher forages but for smaller pigs the lower growths and more palatable grasses and clovers are better. If you find your pastures getting ahead of you and you don't have big animals to graze it down then mow so new growth will come up for smaller animals. Even scythe work can do it.
There are also some milkweed. You'll find milkweed in many 'toxic plant' lists but it doesn't seem to be an issue. It isn't palatable or appetizing. Rather than eating the milkweed the pigs trample it down. Milkweed is pretty fragile. Like many weed species it does not hold up well to managed rotational grazing. However if a single milkweed plant blows to seed it can put out quite a large next generation. We have far fewer in the fields than we did before the pigs but the milkweed still pops up now and again.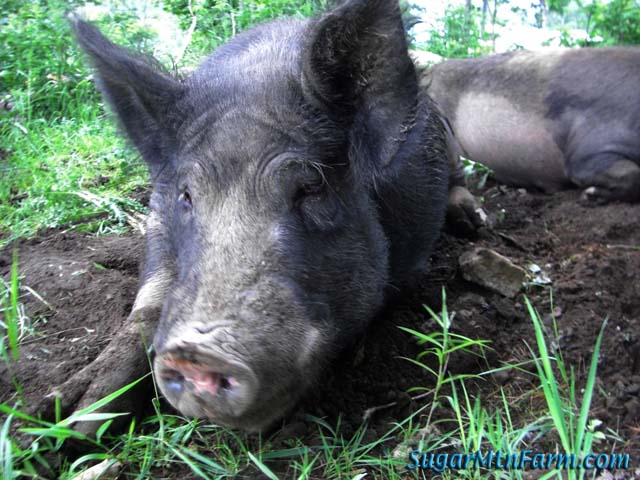 Berkshire Breeder Boar Spitz Lazing and Greeting
This is
Spitz
, our purebred Berkshire boar. He's the boar of the north herd. We got him in early 2012. I had been interested in getting more Berkshire into our
Mainline
herd genetics for the additional marbling. Our Mainline herd genetics is predominantly Yorkshire crossed with Berkshire x Tamworth from over a decade ago. For over half that time we've been slowly mixing in
Blackie's
line of Large Black. We're also crossing Spitz to our
Tamworth
line and our second Large Black line. We have now begun taste testing the results of these crossings. The Berkshire (Spitz) x Mainline x Blackie cross is especially promising. It is a long process and it will be another decade before we see the deep results.

Looking up at Sows on New Pasture – Click for Big View
This is the view from the bottom of the North Home Field which is made up of a series of terraces. The soil is thin. Where the black sow is standing you can see the exposed ledge. It makes putting in fence posts, er, challenging. We often end up hammer drilling into the mountain.
To the left in this photo you can see the lane that leads from the whey troughs and wallow out to the North Field from which we just moved the North Herd. After being out of rotation the lane will grow up in grasses and clovers so it's ready for another round later in the summer.
Up at the top of the field sharp eyes may spot the kids's treehouse. Click on the panorama photos to get larger views and a little mini tour of Sugar Mountain Farm.
Outdoors: 80°F/67°F Sunny
Tiny Cottage: 72°F/67°F
Daily Spark: Success is a trail speckled with failures.
†Since our pigs's normal diet is pasture and dairy which is pretty low in calories a piece of bread is a big treat for them. Pigs will follow you almost anywhere for a donut.