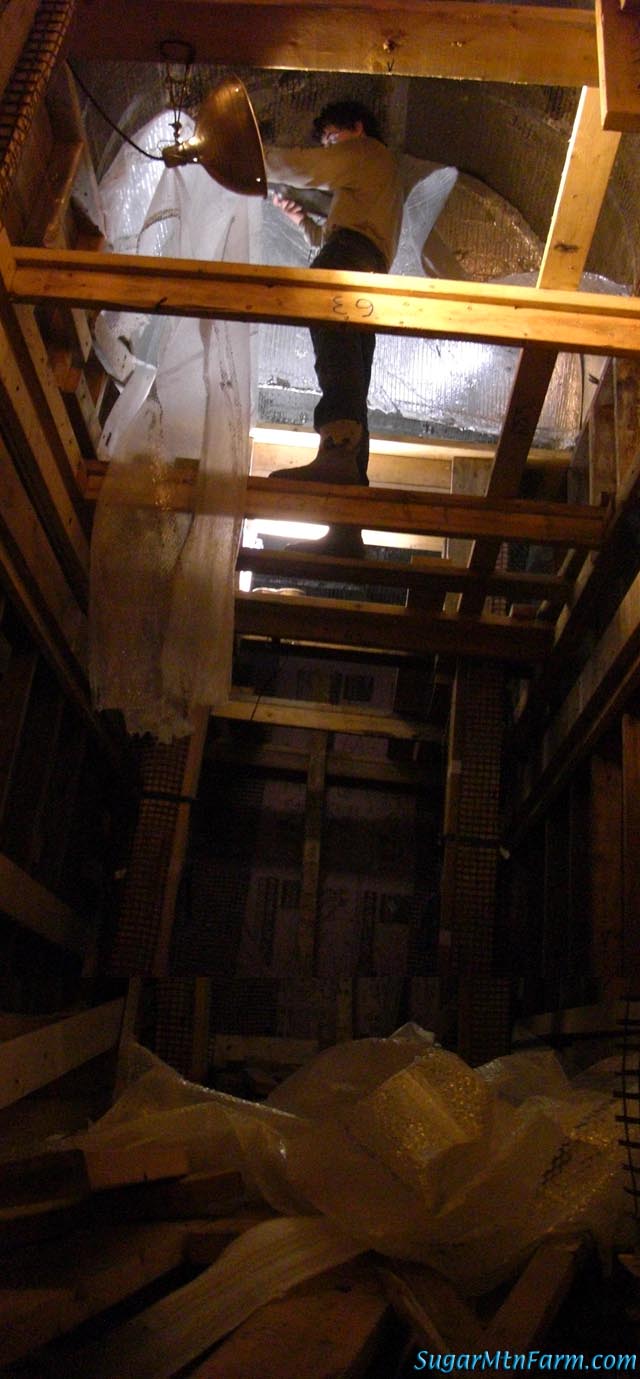 Ben Removing Bubble Wrap in FCB
This is our son Ben removing the bubble wrap from the ceiling of Freezer-Cooler-Brine (FCB). He's up on the 2nd level scaffolding.
Yesterday
I talked about revealing the top of the FCB ceilings. We've also been removing the form work from the inside of FCB. The ceilings are now revealed in all their arched glory.
The barrel vault ceilings are about 15′ tall. Ben's head is a long ways up. The arches not only make the structure stronger but they direct the heat to the evaporator (mechanical refrigeration), heat exchanger (natural winter refrigeration) and someday to the coolth attic (stored winter for summer time).
The FCB is deep inside the already refrigerated 'reefer' section of our building. With each doorway you move deeper into the arctic cold through cave, through brine, through cooler and into deep winter of the freezer. By nesting the each within the other we create air locks that keep the coolth in and the heat out.
Ben Removing Bubble Wrap in Cooler
Despite the distortion caused by my wide angle camera lens these are perfect barrel vaults at the tops of these tall narrow rooms. The rooms are just wide enough for a corridor down the middle of two sets of shelving on either side plus space to hang roaster pigs.
"Why," you might ask, "do we put up stuff like the bubble wrap and then take it down again?" Well, it's form work. We pour the liquid concrete into the jelly molds and then pull all that form work off to reveal a butcher shop. I can make things with form work this way that aren't possible with block walls. The pours allow for hiding away the complexities of conduit, plumbing and ventilation. Concrete has permanence and thermal mass – something I'm big on since it lets me store energy and save money. See, being green is profitable.
Because our jelly is as hard as rock once cured there is a bit of an issue removing internal forms. Something we learned a long time ago was that it is good to have an expansion joint in the form work so that when the concrete cures hard we can get our wooden forms out. In the south field shed we have a few forms we lost due to this issue. Live and learn. That was a mistake we have not repeated. I prefer to make new mistakes instead rather than repeating myself.
All that bubble wrap piling up below Ben we are saving as it is reusable for pouring another ceiling. We have some pieces of material that have now done three different ceiling pours. By the time we get done we'll have all the parts and pieces to form the mold to pour an entire new butcher shop. Traveling mold makers – except we're not much for traveling… Maybe we can build the butcher shops on wheels or with jet packs. Yeah, rocket ships! The ultimate in mobile butcher shops…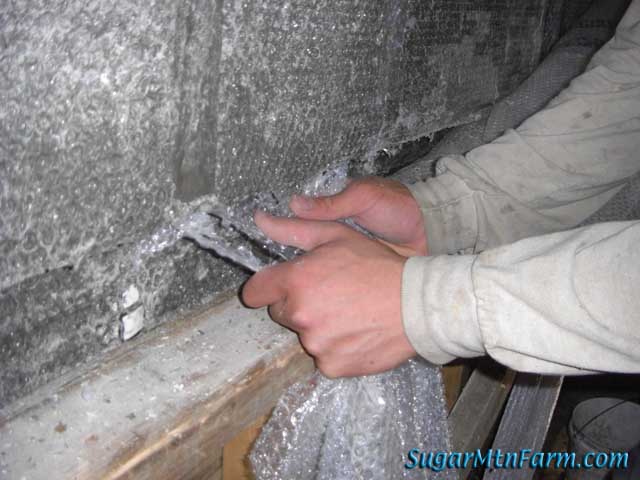 Bubble Bubble Toil and Trouble
The reason for using the bubble wrap instead of our usual "smooth" double bubble or the sill wrap was we wanted to test creation of a corrugated surface for adhesion of the upcoming interior wall parge. I've plastered ceilings before. They're tricky.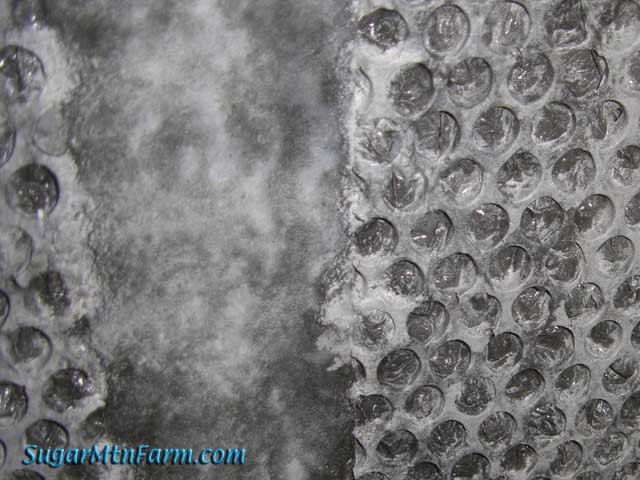 Bubble Effected Surface
We've done some smaller tests but this was the first time we did it on a large scale and it came out beautifully. This rough surface will make plastering the ceilings much easier.
Outdoors: 76°F/64°F Sunny
Tiny Cottage: 67°F/62°F
Daily Spark: Never be normal.