This is the troll bridge leading from the infamous
Truck Ramp
behind our butcher shop into the future lairage space. I've never actually seen the troll but sometimes I hear it's growls from below.
The semi-circles of plywood are left over from pouring the arched ceilings of the
Freezer-Cooler-Brine
rooms affectionately known as FCB. Scraps don't die here on the farm, rather they get reused, and reused, and reused.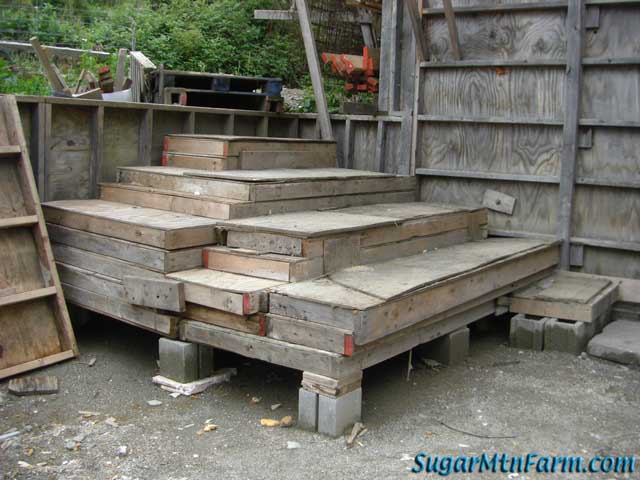 Form Stairs
Speaking of reuse, these are wooden forms used in our concrete pours. We need a place to store the forms now that we're removing them from the interior of the butcher shop as we finish off the work rooms. That was the first reason for moving them out here into the lairage. Then they got stacked so as to double for a broad staircase descending down from the troll bridge.
It's really nice having such solid wide steps for when we're carrying construction materials up and down. There are a lot more forms and timbers coming out of the butcher shop that we're carefully stowing away for future projects.
In the background you can see long boards, TwoBies, in racks hanging from the outside forms and scaffolding. These are from the walers and headers which held the forms in place when they came under the load of concrete as we poured. For the moment the outside of the building is a big storage rack.
Today we've been working on the concrete block divider wall that goes between the inspector's office and bathroom.
Outdoors: 80°F/60°F Mostly Sunny
Tiny Cottage: 73°F/64°F
Daily Spark:
Stranger: "So little girl, what do you want to be when you grow up?"
Little Girl: "I want to be a lier!"
Stranger: "A liar? Why would you want to do that!?!"
Little Girl: "Because that's what my mommy is."
Mother: "No honey, I'm a lawyer."
Little Girl: "That's not what daddy said."