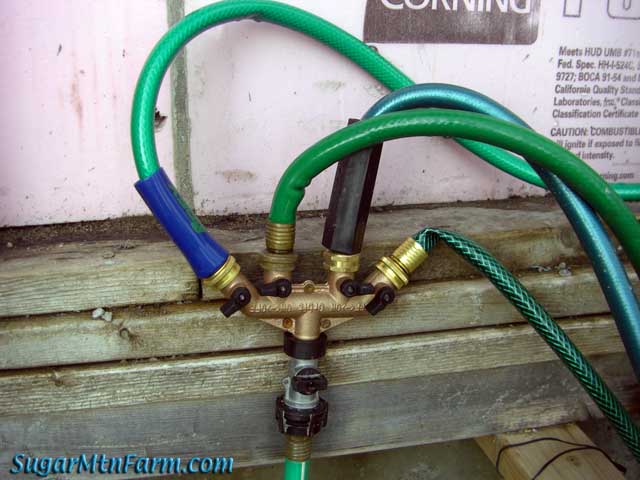 Water Manifold
Don't buy the cheap plastic water manifolds. I've had two recently that I had to replace because they were cracked right out of the store. Nearly invisible seam cracks along the mold lines. This nice brass one is only twice as expensive – make that half as expensive since it works and the plastic ones didn't.
This manifold leads to hoses that go to the various points of our
recent concrete pour
when we poured the FCB, plumbing trench,
sidewalk
and such. It is important to keep the fresh concrete misted wet as it cures. This is Hope's task. A great job for a nine year old, squirting water all over the place on summer days.
Another interesting thing about this photo is it shows several different quality hoses in operation. Notice that the el-cheapo thin walled hose is kinked over the worse. That hose feels very light weight and that kind wears out faster. Turns out there really is a difference between the low priced and higher priced hoses.
Outdoors: 78°F/60°F 1/4″ Rain, Sunny, Cloudy
Tiny Cottage: 69°F/63°F
Daily Spark: Catch and Release is a politically correct form of recreational torture.