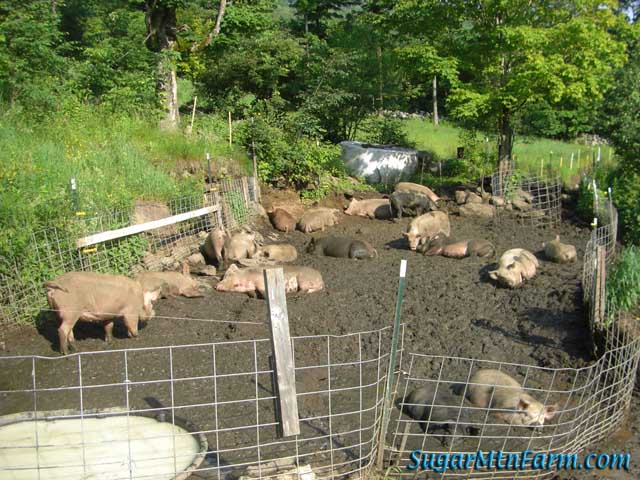 North Herd Sows Enjoying Mud
There are about sixty sows in the north herd nearing the end of their gestation or having just farrowed. These are in with Spitz, our Berkshire boar. In the photo above their enjoying the mud near their whey trough on a sunny day.
Pigs use mud to protect their skin from the sun, from insects, as a moisturizing beauty cream and for cooling off. Having a wallow is important to them, especially in the hot summer months. Thus the phrase, "
Happy as a pig in mud
."
North of their mud patch, to the right and rear of this photo, is the path leading out to the north field where they graze. It's about an eight acre mix of patches of grasses, clovers, brush and trees around the edges – perfect pig pasture.
Outdoors: 74°F/59°F Mostly Overcast, Some Sun, 2″ Rain
Tiny Cottage: 68°F/64°F
Daily Spark: Fighting war is like blocking shadows.