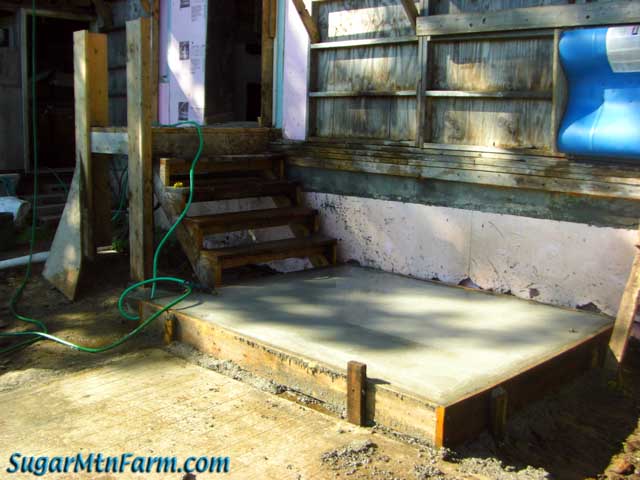 New Sidewalk and Front Steps
These are the new front steps and sidewalk leading up from the
inspector's slab
at our
butcher shop
. This sidewalk got poured at the same time we did the
FCB
last week.
For now there are steps leading up to the front door from the sidewalk. In the future the earth level will rise to better fit the butcher shop fill the front area as we put in an
earth-air heat exchanger
. The inspector's slab will form the base of the heat exchanger which will let us temper the incoming fresh air for the building. The air will be drawn in using the stack effect in the tower that will go above the abattoir.
The hose on the steps is for watering the fresh concrete. Hope is the water master. She makes several times a day rounds to each of the concrete pours to keep the fresh concrete wet. Concrete is a curing process, not a drying process, and as such does best if it is kept moist for a minimum of a week and even up to a month after the pour. A touch of rain helps as does the insulation that covers most of our concrete.
Serious Sirius's Sidewalk Slab Signature
Sirius
, one of our livestock guardian dogs came up to me after I got done floating the sidewalk slab smooth. He pointed at it and looked at me questioningly. I said,
"Wet cement†. No touch."
Sirius looked at me and stepped back, saying "Sure thing boss."
I turned away and by the time I looked back there was a neat handprint in the fresh concrete. He signed it. A smooth, soft concrete slab is just so tempting…
Outdoors: 76°F/62°F Sunny, Cloudy, 1/2″ Rain – Perfect Weather
Tiny Cottage: 70°F/64°F
Daily Spark: Do not try and bend the government for that is impossible. Merely understand that the government is already bent.
†Aye, I know, I know, it's concrete, not cement… Slip of the tongue when we spoke! :)