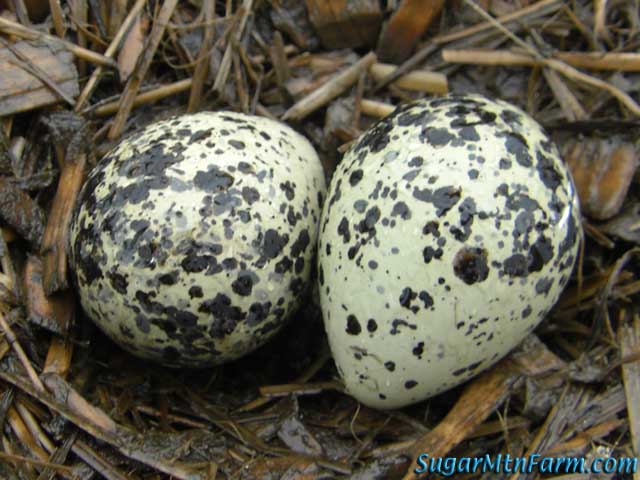 Killdeer Eggs
I came upon this nest out on the south field plateau a few days ago. When I checked again yesterday there were four eggs. I often find their
eggs
this time of year out on field walks.
We have a fair number of
killdeer
since we
reopened
the fields. They favor open spaces. Forests, while romantic, are actually places of low biodiversity. The greater variety of species happens when there is a patchwork of fields, forests and marshes.
Another bird we now see is grackles. The drive off the hawks and ravens who are a danger to small piglets. I've seen killdeer go after the crows, hawks and ravens too. There is another bird that chases them but I'm not sure what it is.
Yesterday I saw a rabbit. In the winter I see many different animal tracks daily. In the summer months there are fewer signs since their paws don't leave impressions everywhere like on the winter snows. Still, I find turkey droppings, tracks in the mud and the other day a blue heron buzzed me, accidentally.
Outdoors: 70°F/46°F Sunny
Tiny Cottage: 66°F/63°F
Daily Spark: "If America could be, once again, a nation of self-reliant farmers, craftsmen, hunters, ranchers and artists, then the rich would have little power to dominate others. Neither to serve nor to rule. That was the American Dream." -Edward Abbey