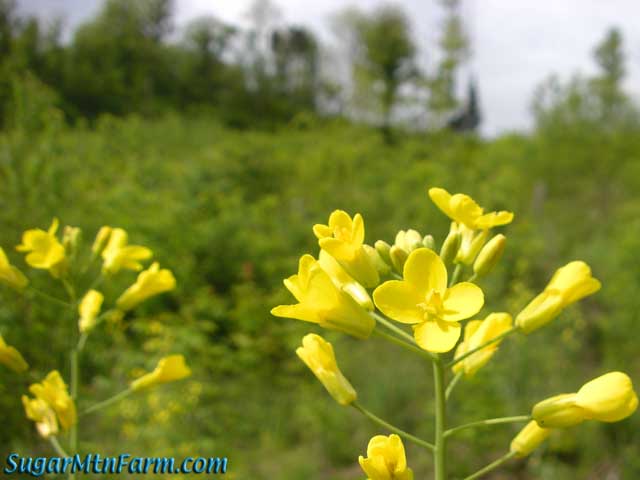 Kale Blooming
The kale is blooming out in our fields. Tasty too. I take a bite here and there when out on walks to check the pigs. Sometimes I find broccoli as well. And lettuce. And pumpkins. There are spots where I've thrown extra seed to see how it would do. The pigs spread them too when they eat pumpkins and the mature kale plants and such. Many seeds pass right through the animals's digestive systems and get left in nice plops of all natural fertilizer from the pigs. This is why fruit.
The roots survive our cold winters under the snow pack in many cases so instead of being annuals these end up as perennials – Some of the brassicas are four years old. The next spring these are many of the first things to put up new foliage since the brassicas are so cold tolerant.
Kale, Clover and other Forages
The picture above of kale, clover and other forages is in a spot that is particularly low in grasses. Most of the fields have a large population of grasses in the mix. Variety is the spice of life, and a foundation of a healthy diet.
Outdoors: 64°F/47°F Partially Sunny
Tiny Cottage: 67°F/64°F
Daily Spark: I'm not a paranoid, deranged millionaire. I'm a billionaire. -Howard Hughes