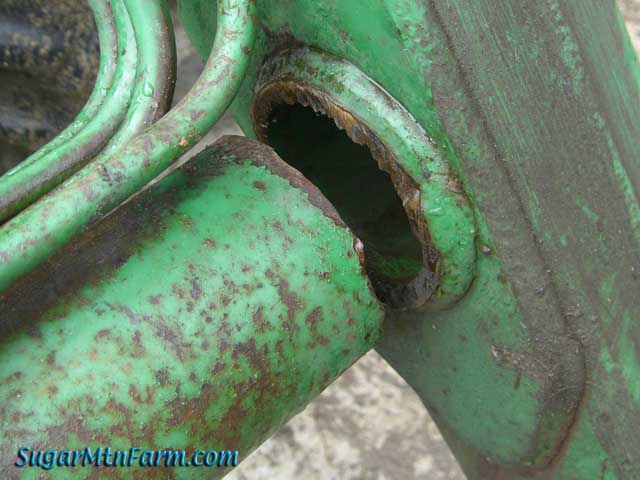 Broken Tractor Loader
The tractor's loader cross bar broke at the weld. It wasn't the weld that broke but rather the metal of the tube just past the weld. Fortunately non-catatrophic but it took it out of service.
Fortunately, our elder son Will taught himself to weld a few years ago so he was able to quickly fix this. While he was at it he inspected other parts of the tractor and patched up a few other original weld points that were cracking. After 12 years of service lifting heavy weights for us we're seeing more need for this sort of repair. Earlier this spring Will reattached the backhoe's control box that had broken its welds and dropped down. Welding is a wonderful skill to have in the family.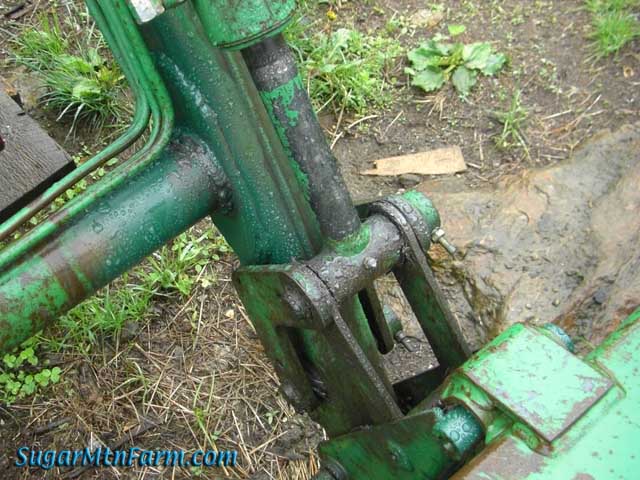 Fixed Tractor Loader
Will and I are thinking of adding a stronger cross bar on the loader. I've always worried about the strength of that part. A project for after we get the
butcher shop
up and running.
Our tractor is a 2001 John Deere 4700 Utility Tractor, the top of its line but still pretty small at 48hp. It's the right size for our needs. We use it up to its limit so something smaller would not handle the work we do. But something larger would need more space and cost a lot more. It's a good compromise.
It gets heavy use toting 800 lb round bales of hay, hauling bedding and plowing snow during the winter. The summer months are actually a little slower for tractor use since we don't mow or till but we still need to move loads around. The front loader, be it forks or bucket, are the primary tool we use on the tractor. Next up would be the backhoe for ditching in water lines and things. Summer time is when we reshape the land like doing terracing and road building so the whey and water can all gravity feed – critical in a land that is frozen much of the year. Pumps break.
Outdoors: 72°F/57°F Sunny
Tiny Cottage: 66°F/62°F
Daily Spark: [Steve Jobs was] brave enough to think differently, bold enough to believe he could change the world, and talented enough to do it. -Barack Obama