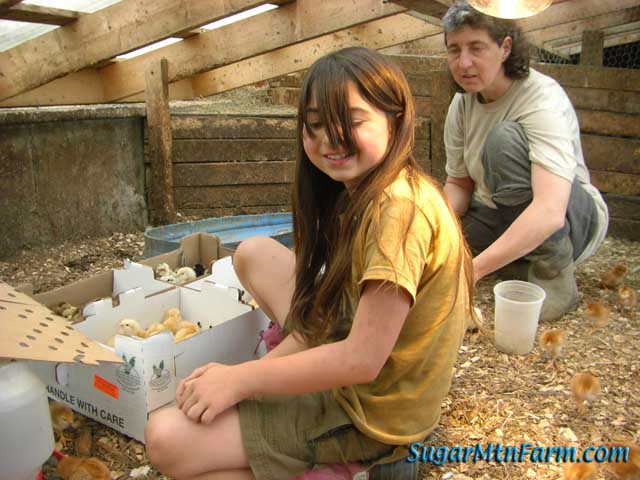 Hope Liberating Chicks
We keep a lot of chickens for their organic pest control function. They keep our farm healthy and pleasant without needing to use insecticides or pesticides. These are approximately 300 that arrived in late May.
Like guineas, chickens are death to ticks, black flies, mosquitoes, deer flies, etc. They also eat snakes, mice and just about anyone else they can get down their gullet along with a healthy serving of grasses, clovers and other forages. The advantage of chickens over guineas is they are quieter and lay a
lot
more eggs and the eggs are bigger.
Chickens also break apart manure patties and spread clots of dirt, smoothing the soil. In nature birds follow the grazing herds of herbivores. On our farm they do the same thing. We don't pen the hens in but rather they follow the pig herds around the grazing patterns.
As a huge bonus these hens will produce 10,000 to 30,000 eggs a year which we cook to double the available protein and then feed the eggs to the younger pigs which gives them a boost as they wean.
In the winter, when the pastures die off and the insects disappear, the chickens eat pigs – no commercial layer feed. This is a great cycle of life and food that we can produce here on the farm from our own resources.
Outdoors: 79°F/54°F Partially Sunny
Tiny Cottage: 66°F/64°F
Daily Spark: When life gives you lemmings, make lemming aid.