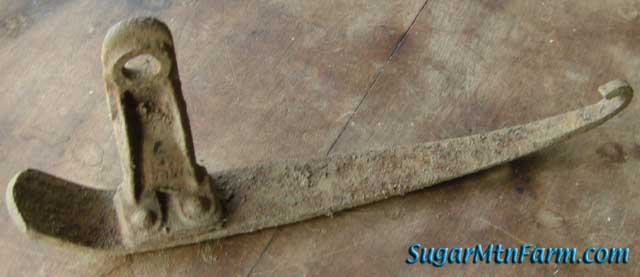 Iron Ski Found
Where's the skier? Perhaps a primitive snowmobiler? Hmm… What do you think this is? Leave ideas in the comments…
Will found this object out in the north field where the northern herd of
sows
are farrowing up great gobs of
piglets
. The pigs probably found it first and left it on the surface where we could find it.
The 'ski' pictured above is about 30 cm long. That's a foot for those in countries that use the old English system of measures. My boot size is precisely 1′ long, my thumb joint is an inch, my thumbing my nose is a yard so I guess that makes me king, at least of the mountain. As Hope noted when we were planting, that's two of her feet – she's a princess planting peas and pumpkins.
We run across things like this time to time out in our fields and woods. An old boot. A bulldozer tread. A knife. A rod. Broken pottery. An ancient brick. Check out other Found Item Posts and Mystery Questions after you've left your idea for this one in comments.
Outdoors: 60°F/50°F 1″ Rain, Overcast
Tiny Cottage: 66°F/62°F
Daily Spark: Why would someone want to learn something useless like history when they can just repeat it themselves?