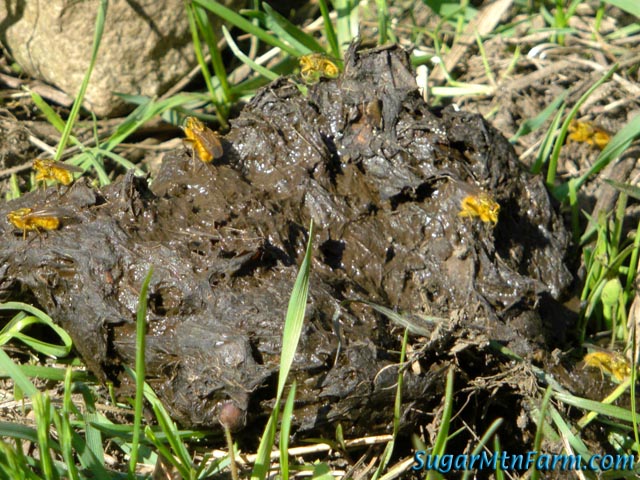 Scathophaga stercoraria on Pig Dung
From Wikipedia:
"Scathophaga stercoraria, commonly known as the yellow dung fly or the golden dung fly, is one of the most familiar and abundant flies in many parts of the northern hemisphere. As its common name suggests, it is often found on the feces of large mammals, such as horses, cows, sheep, deer, and wild boar, where it goes to breed. … Scathophaga are integral in the animal kingdom due to their role in the natural erosion of dung in fields."
A researcher I have been corresponding with about the S. stercoraria we were seeing said that these flies normally appear on only cattle dung and are hard to grow even on horse dung. He was quite surprise we had them on our pig dung as they don't live on domestic pig dung. I think I know why.

I minimize the use of Fenbendazole, Ivermec and other commercial dewormers in a large part because my understanding is those classes of chemicals kill off things like dung beetles and other helpful insects. Primarily we control parasites via managed rotational grazing and feeding whey & garlic as well as the organic pest control done by our large flock of laying hens. Perhaps that has made a difference.
I suspect that we're seeing S. stercoraria on our pig dung because our pigs's primary dietary component is pasture in the warm seasons and hay in the winter. Coupled with the right dung composition and the lack of chemical dewormers this may be making our pig's dung closer to that of cattle and the dung of wild animals.
These flies are an important part of the natural life cycle, breaking down the dung so that it can be used by the plants and soil fauna. This is one more good reason for natural and organic farming. Consider the Yellow Dung Flies as canaries in the mine.
On a related note, we have a healthy population of bees, both domestic and wild, in our valley.
Related: Worms Au Natural
Outdoors: 67°F/52°F Sunny, 0.25″ Rain
Tiny Cottage: 68°F/66°F
Daily Spark: Every day, thousands of innocent plants are killed and maimed by vegetarians and vegans. Help end the violence: Eat bacon! -Anon