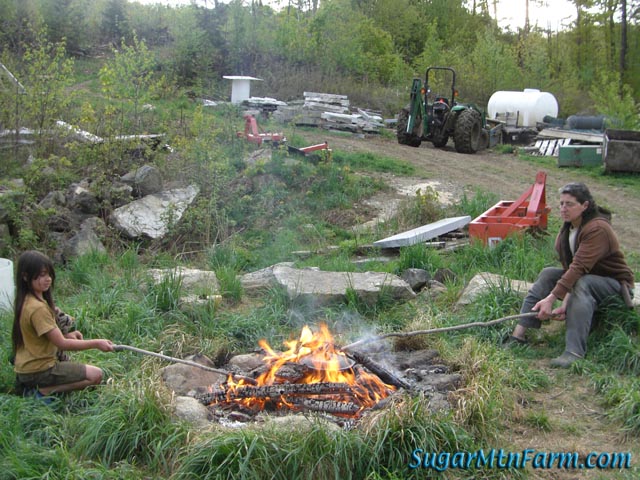 Hope Heating Hot Dogs
With the advent of warm weather we're cooking outdoors on the bonfire again. Years ago when we were clearing fields we would have regular bonfires all over the place. Rather than doing one big bonfire to burn up 'junk' wood we did them as many small cook fires to enjoy over a period of years.
Since we built the upper pond seven years ago we have tended to have the bonfires there. We made a fire ring of stones, there are rock tables and seats. Most of all this picnic area is located close to the cottage and to swimming. As an added bonus we get to watch the fish jump and the bats swoop in the evening.
We just delivered the latest batch of hot dogs to stores and restaurants throughout much of Vermont. We have some restaurants that order our all natural nitrate/nitrite free smoked hot dogs right through the winter but most people want them for summer cookouts. We're coming into the warm season now and enjoying every minute.
If you look in the middle of the fire you'll notice a cast iron pot. There's a potato, sausage and marinara stew in there. Normally we cook on the coals, not flames. I had stirred the wood up for the photo – quite effective. The pot is sitting on the large flat cook rock in the middle of the fire. This rock tempers the heat and provides a good place for cooking.
Outdoors: 67°F/52°F Sunny
Tiny Cottage: 68°F/66°F
Daily Spark: The "What ever makes you're dinner bell ring" diet.