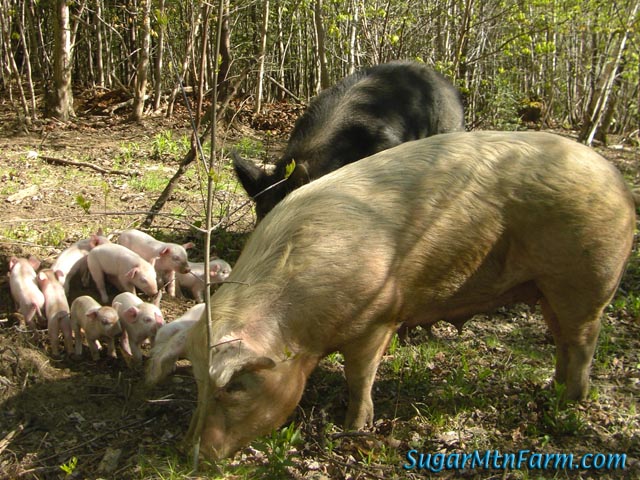 Piglets, Sow and Spitz in North Field
These piglets were just born a few days ago in the north field where we
migrated
sows north recently. We moved 31 sows north that day. They joined the eleven sows already there who were already cohabitating with our Berkshire boar
Spitz
. The 31 moving north had bred with our southern boars,
Gomez
and
Zorro
. This sow is one of the eleven who had mated with Spitz who's standing in the background. Because it was such a large group of invaders and we catered a buffet party the tension was minimal.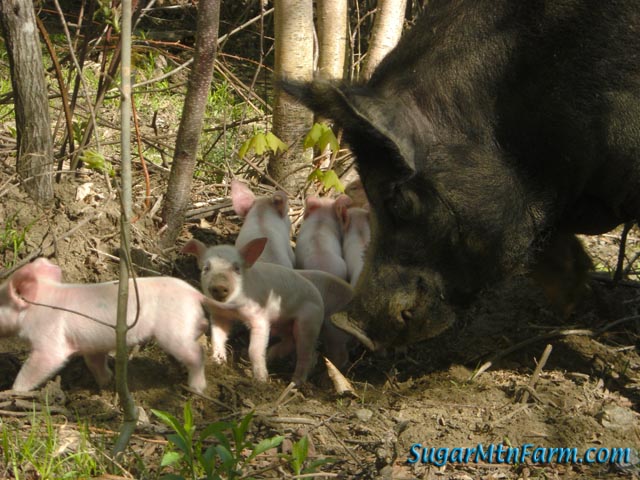 Big Boar Spits with Piglets
People sometimes ask if boars are mean, aggressive or safe around piglets. Our boars are well tempered and fine with the piglets. It is very important to cull for good temperament – Around here you don't get to be 600 lbs if you've got anger management issues. I eat mean people. Spitz is very gentle with the piglets. This sow is a pure white so her color dominates in the piglets she had with Spitz.
A Perfect Nest
Another litter of eleven. These are also from Spitz and they show the coloring I often see out of his litters. These piglets were just born minutes before
Remus
and I came upon them in the brush of the north field. The sow had built a perfect nest on an incline so that it drains. She dug a cradle of dirt and built a wall of sticks on the downhill side so that piglets would stay up with her. All this is under the shelter of a small pine tree to protect them from the rain. Remus check checked them over and we moved on with our walking tour.
Outdoors: 67°F/40°F Sunny, 1/2″ Rain at Night
Tiny Cottage: 70°F/65°F
Daily Spark: It is a free citizen's duty to lie to the government. -A. L. Einsteen