Last Snow
We got a good rain the other night. Coupled with the warm sunny days it cleared away almost all of the rest of our snow. In a short space of time we went from fields being
covered
with snow to on the 14th
patchy
on the 17th to bare today on the 21st.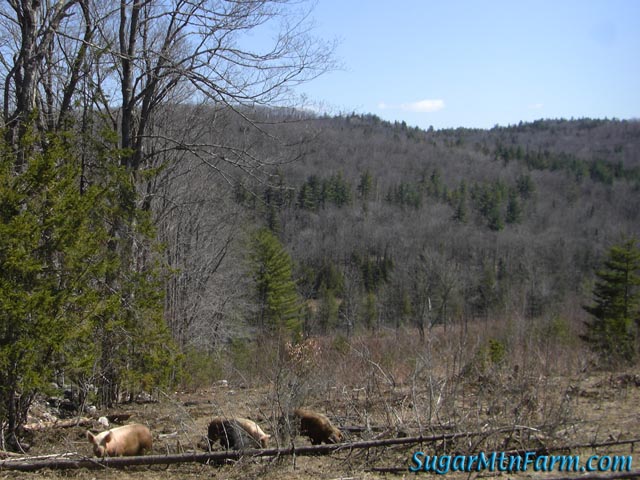 NorthFieldSows
The pigs are loving it. These four sows are at the far end of the north field just below the water line road. If you look down the hill behind the sows you can just barely see our Berkshire boar Spitz laying in the sun. When I called out to him he wiggled an ear in acknowledgement but otherwise ignored me. The warm spring sunshine was just too pleasant.
I walked up the waterline road this morning to check the springs. Both springs are running very strongly with the spring snow melt.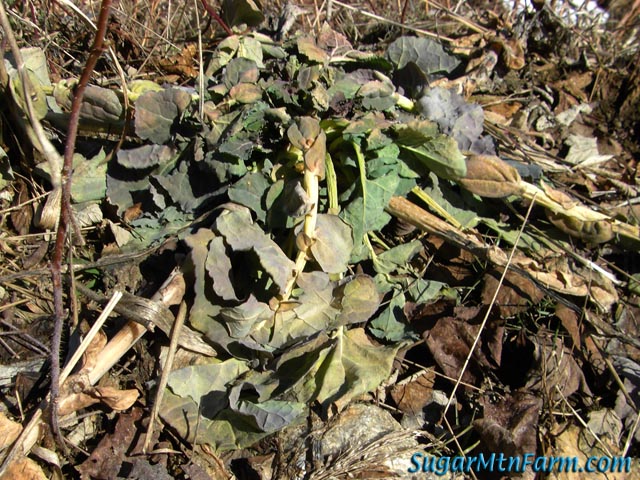 Brassica Spring Growth
Along the way we saw lots of
brassicas
popping up in the fields from their roots of last year. Some of those roots are at least two winters old. I also saw some new sprouts. There were even some new blades of grass. The forages are wasting no time. The fact that we get almost no frost depth with our early snows probably helps the plants get going in the spring. Down in the valley farms they have green fields so our forages need to race to catch up for the short growing season.
Outdoors: 47°F/20°F Sunny
Tiny Cottage: 66°F/62°F
Daily Spark: Nature is cruel, but we don't have to be." -Temple Grandin